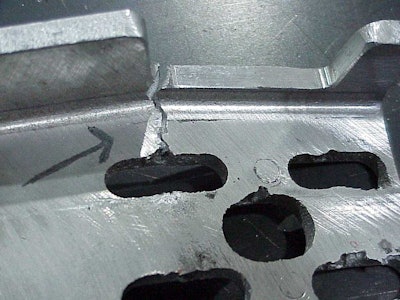 Many manufacturers find it difficult to communicate with their long-distance suppliers. Yakima, WA-based Marq Packaging Systems, Inc. (www.marq.net), a manufacturer of case erecting and sealing equipment, found that its western location often hindered clients on the East Coast or overseas from reaching Marq during regular business hours. Boosting its Web site from informative to interactive has helped its customers obtain timelier service. In addition to machinery descriptions (which include operational videos) and contact information, Marq provides its customers with access to online manuals, parts ordering and consulting.
Chad Holsinger, a maintenance technician with women's fashion retailer Ann Taylor Co.'s Louisville, KY, distribution center, has found the site helpful. "The biggest thing we use the site for is communication with Marq," he says. "With the time change between Kentucky and Washington state, it not only saves us time and money, it's also a lot more reliable" than playing phone tag. Because the Web site provides quick back-and-forth interaction, Holsinger doesn't have to trust busy fellow maintenance technicians with things like phone messages.
Ann Taylor ordered a case erector from Marq, then put the Web site's videos and manuals to use before the machine even arrived. "It was nice to actually know the machine before it was delivered," Holsinger says. Since receiving the case erector, Ann Taylor has used the site for troubleshooting, parts ordering and routine questions.
"When we have a problem with our machine, the first thing we do is go to the computer," Holsinger explains. "We put in the CD-ROM that was sent to us [when we ordered the machine], and it automatically connects us to the Marq Web site." The CD-ROM and Web site work together: "We have the ability to look at the machine manuals and drawings, or we can refer back to the machine setup. If we still have a problem, we go to the 'Contact Us' feature and we can send a message or question to whichever department can best answer our question." Each CD-ROM is specific to the machine purchased and includes CAD drawings, a machine manual and a set-up video.
Marq's parts/service manager Jim Hansen says interest in the site's features has picked up considerably since its debut four years ago, "partly because many maintenance technicians now have the capability to access computers more readily." Last month, for instance, Marq.net recorded about 50 uses of its online manuals. "The online manuals are a big help because there is such a problem with manuals being lost," Hansen explains. Requests for new manuals are now handled in minutes; an individual ID and password connect customers to the Adobe PDF-formatted manuals.
Parts ordering
Ordering parts via Marq's site also is a streamlined process. In addition, Hansen says many customers send digital pictures of the problem they're having, as well as of the parts they may need. That allows Hansen to assess how to fix or replace the part.
"We had a piece on the machine that kept breaking, and I knew that we had to have the machine available" in a short amount of time, Holsinger says. "I made [a surrogate] piece, installed it and made sure that it was going to operate correctly. Then I took a picture [shown] and sent it to [Hansen] at Marq" to show him the problem and temporary solution.
Marq anticipates that use of its site will increase as more young people with stronger computer skills join the manufacturing field. In the meantime, customers as far away as Singapore, Chile and the Netherlands are finding communication easier, thanks to the Marq Web site. "We're getting positive reaction from everywhere," Hansen says.
Companies in this article