Since their debut in the packaging industry more than a decade ago, collaborative robots, or cobots, have become nearly as robust and well-known a category as traditional industrial robot styles. Lightweight, portable, and easy to program, cobots offer small and medium enterprises (SMEs) an affordable way to automate repetitive, low-speed tasks that were formerly done manually. For larger manufacturers, cobots enable greater flexibility on production lines through modular deployments.
According to a 2022 report from PMMI – The Association for Packaging and Processing Technologies, "Robots and Cobots An Automated Future," the use of cobots in packaging operations stood at 27% in 2022, with usage predicted to grow to 57% by 2027. Originally designed for low-payload applications, such as pick-and-place and material handling, recent developments in technology are extending the reach (literally and figuratively) of cobots all along the packaging line.
---
---
Noted PMMI in its report, in 2022, 6% of respondents were using cobots in processing; in 2027, that number is predicted to rise to 22%. For primary packaging operations, 10% of CPGs were using cobots in 2022; 22% report they expect to be using them on this part of the line in 2027. And for secondary packaging applications, 6% of CPGs said they were using cobots in 2022, with that number predicted to grow to 29% by 2027.
Spurring the growth of cobots in secondary packaging applications is the advent over the last two years of higher-payload, longer-reach "industrial cobots" that can be used for palletizing. At the lower-payload range is ABB's SWIFTI CRB 1300, with a capacity of up to 11 kg. According to the company, the cobot's high-payload capability combined with its 13-box/min palletizing speed (versus the industry standard of eight per minute) improves production efficiency by up to 44%.
"Our customers are looking to robotic automation to make their processes more flexible, efficient, and resilient, helping to counter labor shortages by enabling their employees to perform more value-added work," says Andrea Cassoni, managing director for Global General Industry Robotics at ABB. "The latest addition to our SWIFTI family is a highly accurate, high-payload cobot that's up to six times faster than other robots in its class. This means it can be used by both SMEs and large manufacturers looking for collaborative automated solutions to achieve new levels of flexibility and productivity."
The 6-axis SWIFTI CRB 1300 is powered by ABB's OmniCore C90XT controller, which the company says allows for up to five times greater precision than any other cobot in its class, making it suitable for tasks requiring consistent accuracy and repeatability. This precision, along with payload options ranging from 7 to 11 kg and reaches from 90 to 1,400 mm enable the cobot to perform a range of higher-payload tasks, including screwdriving, assembly, pick-and-place, and palletizing.
To ensure operator safety, the cobot features a safety laser scanner integrated with ABB's SafeMove collaborative safety software. If the laser scanner detects a worker within SWIFTI's operating area, SafeMove automatically slows the robot or stops it completely. As the worker moves away, movement is restored, returning to full speed for full productivity only once the working area is completely clear. Says ABB, integrating the scanner and software is simple through the use of SafeMove's software add-ins, enabling workers to quickly set up a safe working zone and other safety features using a hand-held FlexPendant operating unit.
The cobot is also said to be easy to program, making it accessible for non-specialists in robotics. The SWIFTI can be set up either by physically guiding it through a process (lead-through programming) or through ABB's Wizard Easy Programming software, which is based on simple graphical blocks.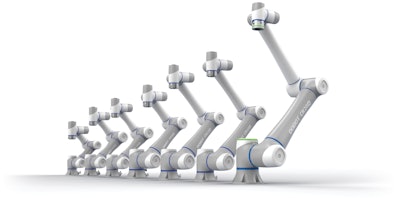 Nearly double the payload of the SWIFTI is the highest-payload cobot in Dobot's new CRA Series, which includes seven models that range in capacity from 3 to 20 kg and working envelopes from 620 to 1,700 mm. The CRA Series and Dobot's new CRV500 Smart Camera were officially launched at the Automate Show in May,
---
---
As Dobot explains, the series incorporates a number of new technologies that enhance performance. "Compared to its predecessor, the CRA Series has a noticeable performance boost and is more efficient, safer, and easier to use," says the company.
Among the new features are self-developed, highly integrated joints with high-performance harmonic drive reducers that improve cycle time by 25%, an optimized precision control algorithm that greatly reduces vibrations, a repeatability of ±0.02 mm, and a trajectory accuracy of 0.2 to 0.4 mm during complex motion. In terms of safety, the cobot features electromagnetic brakes that auto-engage in 18 milliseconds in the case of a power outage to restrict robotic arm falls less than 1 mm, effectively preventing the end tool from dropping. The CRA Series also has built-in virtual boundaries, real-time payload detection, and other features to ensure the safety of nearby workers.
According to Dobot, the series' brand new operating software is more user-friendly as well. It supports graphical programming, scripting, and drag-to-teach for trajectory replay. It is also multiplatform and works with personal computers, tablets, smartphones, and more. The CRA Series supports Modbus, Ethernet/IP and PROFINET communication, connecting with PLC and other automation systems seamlessly. With 24 I/O ports available and PNP/NPN switching, expansion can be carried out more easily.
The other new product from the company, the CRV 500 smart camera, employs Dobot's 2.5D spatial compensation technology that, when used with its CRA and CR Series cobots, can accurately identify an object's horizontal angle and inclination for accurate grabbing. The camera can be set up using Dobot's cobot control software without further development for easy and quick deployment.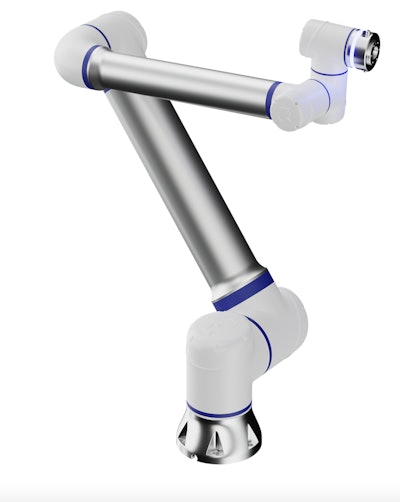 Also in the 20-kg-payload category is Elite Robots' new CS620, which the company says "stands out for its remarkable ease of use, safety, and expandability." The model is a new addition to Elite's existing CS Series of cobots, which includes 3-, 6-, and 12-kg-payload models, and offers a reach of 1,800 mm and speeds to approximately 3.9 m/sec.
The CS Series is based on an advanced software infrastructure, with an intuitive and modular graphical user interface (GUI) that supports the Python scripting language and self-developed plug-ins, offering a high level of programming customization. The series offers 24 digital I/O (8 configurable) and 4 configurable tool I/O, and a range of connectivity options. Safety is ensured by compliance with ISO 10218-1 and ISO 13849-1 standards.
One feature unique to the CS620, says Elite, is that it is "the world's first cobot to supply end effectors through a 5A tool I/O." This ensures the cobot always has enough power to perform demanding tasks and can handle multiple devices simultaneously through its dual tool (four-pin and eight-pin) connector.
The CS620 robotic arm features an IP65-rated degree of protection, upgradable to IP68. The ISO Class 5 cleanroom designation also makes it suitable for applications that require a high level of hygiene, such as pharmaceuticals and electronics.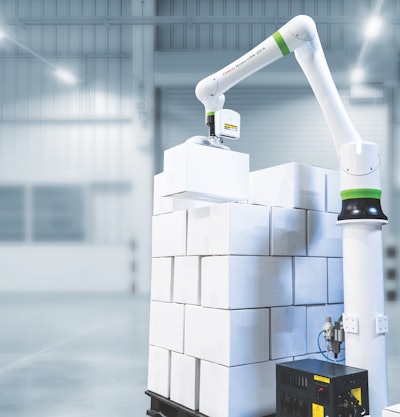 Boasting payload capacities of up to 30 kg and 50 kg, respectively, are Fanuc's new CRX-25iA and CR-35iB cobots. The "heaviest lifter" of Fanuc's CRX Series of cobots, the 6-axis CRX-25iA offers a reach of 1,889 mm and a maximum speed of 1,000 mm/sec, and is recommended for applications that include palletizing, material handling, machine loading and unloading, and welding, among others.
According to Fanuc, a new teach-pendant user interface makes programming easy, with lead-through teaching and simple drag-and-drop programming. For space savings, the unit is equipped with Fanuc's compact R-30iB Mini Plus Controller. The company adds that switching out peripherals is easy with its selection of approved devices, which include an auto connector, a manual tool change, and electric and manual grippers, among other devices. Two connection ports on the J6 axis offer quick connections and interchangeability for EOAT, such as grippers and cameras. In addition, Fanuc's intelligent features allow for easy connection to iRVision—the company's fully integrated plug-and-play vision system, which offers machine vision in 2D and 3D—force sensors, and more.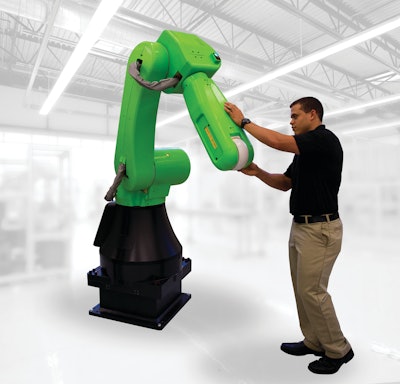 Part of the company's CR Series cobots, the newly revamped CR-35iC is said to be "the industry's strongest collaborative robot." With a payload capacity ranging from 35 to 50 kg, the cobot features a work envelope of 1,831 mm and a maximum speed of 750 mm/sec. Depending on the end-user's needs, the CR-35iB can be equipped with a Fanuc vision sensor or a 3D area sensor, enabling it to locate or visualize products.
Also designed for ease of operation, the cobot does not require special programming or complex languages: Operators can program the CR-35iC with the Fanuc Hand Guidance option, leading the cobot through paths to teach a new task, or can use the company's tablet TP with drag-and-drop user interface. The cobot is also compatible with Fanuc's standard teach pendant. As with the CRX-25iA, the CR-35iB can be equipped with intelligent functions, including iRVision and force sensors.
The CR-35iB is recommended for a wide range of applications, including assembly, material removal, machine tending, load transfer, dispensing, and picking, packing, and palletizing.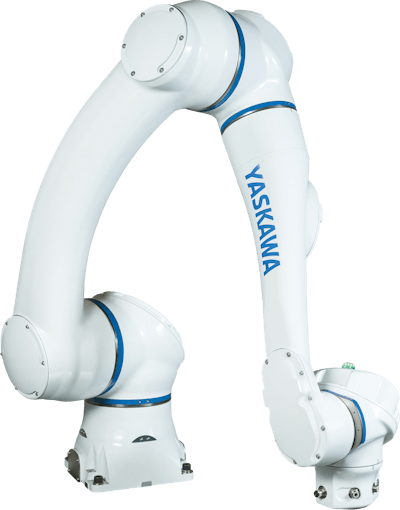 Weighing in with a robust 30-kg payload, the new 6-axis HC30PL cobot from Yaskawa offers a maximum reach of 1,700 mm and is recommended for use in select handling, packaging, and logistical applications. Joining the company's HC Series of cobots, the HC30PL meets the line's established safety standards to enable safe operation with, or in close proximity to, human workers.
In order to constantly monitor force to quickly and safely react to contact, the cobot uses Power and Force Limiting (PFL) technology. Additional safety is provided by advanced pinchless geometry. With these safety standards in mind, the HC30PL offers four modes of collaborative operation and can shift between collaborative speed in PFL mode or full speed in industrial mode, optimizing cycle times based on risk assessment and process requirements.
Providing the ease of programming cobots are known for, Yaskawa's new cobot allows operators to direct teach points with hand-guided programming without a pendant for quick implementation, and a plug-and-play tool flange based on EN ISO-9409-1-80-6-MB connects a variety of EOAT for fast deployment. According to Yaskawa, installation is also quick and efficient: "A single cable is all that is needed to connect the manipulator to the controller, resulting in easy setup and reduced expenses for maintenance and spare parts," it explains.
---
| | |
| --- | --- |
| | Read Packaging World's complete robotics report, "Robots 2023: Smarter, More Adaptable & More Robust." |
---
Other features of the HC30PL include an IP67 rating that enables it to be used in damp or splash-prone environments, an easy-to-clean surface for use in sanitary settings where wipe or wash is required, and a compact footprint of 2 ft W x 1.6 ft H x 1.4 ft D. The cobot is controlled by Yaskawa's YRC1000 controller and is also compatible with the YRC1000micro Controller. The HC20PL is compatible with a standard teach pendant or the company's touchscreen Smart Pendant, designed for novice robot users.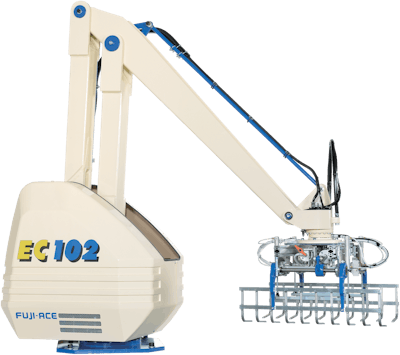 Not a cobot, but worthy of including in this lineup of high-payload palletizing robots is Fuji Robotics-North America's new-to-the-North-American market EC-102 palletizing robot, which features a 160-kg payload. According to the company the EC-102 is the most economical and environmentally friendly robot among its offerings. Features of the four-axis articulated palletizing robot include a bag cycle time of 1,200 cycles/hr and an operating area of 2,300 mm for the Z axis (vertical), 1,500 mm for the R axis (longitudinal), and 330 deg for the Theta (rotation) and Alpha (wrist) axes. A fifth axis of motion is available on the end effector. PW
Companies in this article