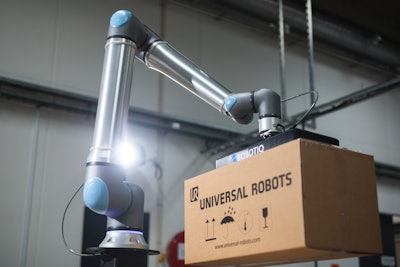 One category of robot that was introduced with ease of use and programming in mind is cobots. Since the first cobot was introduced to the packaging industry over a decade ago, OEMs offering cobot technology have designed touchscreens and pendants that allow operators with little to no experience to quickly and easily program the path of the cobot. Some models even allow the operator to program the arm by manually guiding it through the required movements.
Coupled with that, undoubtedly the most distinguishing feature of the cobot is its ability to work alongside humans. Until recently, cobots have typically been small and lightweight, making them easy to move throughout a facility to different packaging lines. They primarily handled relatively simple, repetitive packaging tasks requiring low-payload capacity. But cobot manufacturers are now bringing the benefits of these systems to palletizing, with higher payloads and with cobot arms having a greater reach.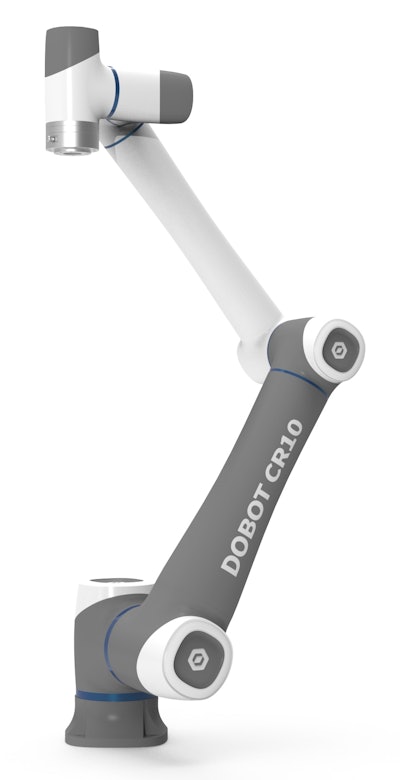 Available from Dobot, a Chinese robotics company that just recently made its line of cobots widely available in the U.S. through master distributor DB Cobots, LLC, is a "cobotic" palletizer that DB Cobots President Doug Dalgliesh says is "one of the easiest systems on the market today to install and implement." The palletizer uses Dobot's CR10 six-axis arm, which is part of the company's CR series of adaptable and self-learning cobots.
---
---
Features of the light-duty CR10 include a payload of 10 kg, ±0.03 mm repeatability, and a 1300-mm reach—technical capabilities that make it suitable for a number of applications, including palletizing, loading and unloading, and others. Additional features include a customized, user-friendly HMI, a vertical lift actuator, and adjustable end-of-arm vacuum cup tooling.
According to the company, set up requires just four steps: 1.) enter pallet dimensions; 2.) enter box dimensions and weight; 3.) set the pallet pattern; and 4.) set the movement speed and acceleration. Given the simplicity of set up, Dobot says the system can be up and running within minutes.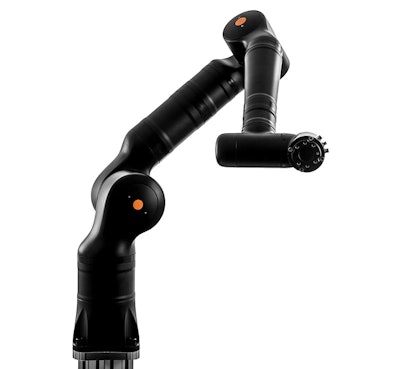 From Kassow Robots is a seven-axis cobot, the KR1018, which has a payload of 18 kg and a reach of 1000 mm, making it suitable for precise and repetitive industrial tasks requiring great strength, such as machine tending, assembly, quality assurance, palletizing, and pick-and-place operations. Kassow relates that the cobot's easy-to-use interface and the plug-and-play concept of the seven-axis cobot makes it accessible to small and mid-size enterprises (SMEs) that do not have robot engineers on staff.
---
---
The KR1018's seventh axis, or "wrist joint," provides increased maneuverability and an increased range of motion. The seventh axis also enables continuous dispensing, welding, and material removal applications, regardless of access angle, without the need to reorient the arm. Weighing just 34 kg, the cobot can be easily relocated to perform different tasks in other areas of the facility.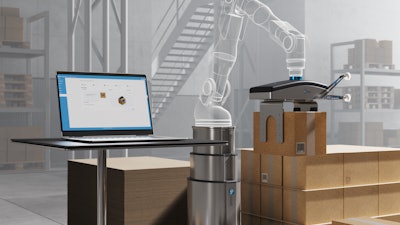 Another cobotic palletizer designed for maximum flexibility and ease of use is OnRobot's new OnRobot Palletizer. The platform can handle many different types of boxes, packages, patterns, pallets and stacking heights and allows users to choose the palletizing system that works best for their specific application. Compatible with cobots and light industrial robots from Doosan, Fanuc, Omron, Techman, and Universal Robots, the OnRobot Palletizer is available as a complete out-of-the-box system or as individual components to create a mix-and-match solution.
The palletizer includes four new hardware and software products. One is the company's OnRobot Palletizing software, which guides users through the entire deployment from start to finish by way of a single intelligent interface for all components. According to OnRobot, the software is designed to reduce deployment time by eliminating complexity, enabling even inexperienced end users to deploy the system in a fraction of the time it would take using traditional programming interfaces. Another component of the system is the OnRobot 2FGP20 electric palletizing gripper, with a 20-kg payload and customizable arms that can handle standard cardboard boxes as well as open boxes and shelf-ready products while also handling slip sheets without changing the gripper or requiring additional handling.
The third product is the OnRobot Lift100, a robust elevator with a total payload of 100 kg that provides a seventh axis for cobot and lightweight industrial robot brands. And the last component is the OnRobot Pallet Station, which consists of durable, floor-mounted pallet fixtures designed to ensure consistent positioning, each equipped with a built-in sensor for detecting pallet presence.
According to Adrián Pérez Martínez, CTO and co-founder at Neobotik, an automation integrator that tested the system prior to its launch, the OnRobot Palletizer has three main advantages over existing palletizing automation: "It's fast to deploy. It has an easy-to-use programming interface. And the gripper weight is optimal, making the solution ideal for a wide range of collaborative palletizing applications, including in industries such as food and beverage, where there is a high flow of open boxes ready to be palletized and where gripping the boxes using a traditional vacuum gripper is not possible."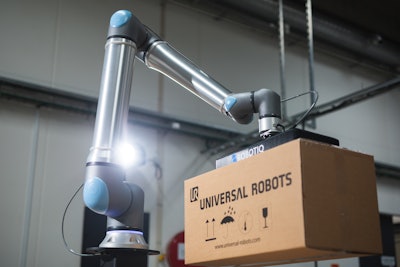 Universal Robots, which essentially pioneered cobots for packaging applications, has also introduced a cobot for palletizing, the UR20, which company president Kim Povlsen says is the most innovative cobot Universal Robots has produced and the latest evolution in 17 years of technical experience in the robotics industry. "This is not just a bigger version of our existing cobots; it's the cobot redefined," he says.
The UR20 features an entirely new joint design that allows for up to 65% faster cycle times, depending on joint type, as well as the ability to handle loads up to 20 kg. Its 1750-mm reach has been designed to work to the full height of the standard Europallet, which the company says will transform the way businesses package and palletize, and its small, 245-mm footprint will allow users to achieve more within their existing production space. In addition to palletizing, the UR20 can be used for welding, material handling, and machine loading and tending, as well as for solutions created by Universal Robots' partner ecosystem.
The new cobot is said to be the first of a new series of next generation cobots from the company. "We're launching our next generation with this high-payload model first to market because it will make end-to-end automation a reality for our customers, allowing them to use cobot automation to cover new tasks," says Povlsen. "The next step in redefining automation will be to bring the same innovative features to a new family of cobots."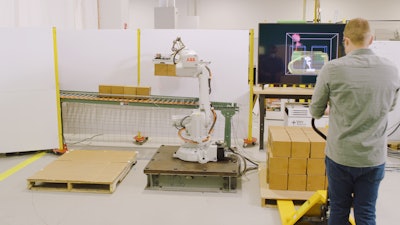 Also transferring the cobot's inherent benefit of being able to work alongside humans to palletizing is a new system from Veo Robotics and Gray Solutions that uses Veo's FreeMove 3D safeguarding system for industrial robots. Gray Solutions, an automation services provider for the food and beverage sector, will be including FreeMove as part of its collaborative palletizing systems for the CPG industry.
Veo notes that often during the robotic palletizing process, operators need to enter the palletizing cell, which means the robot has to cease operation. Instead of having to stop and start the robots each time humans enter and leave the cell, FreeMove's 3D speed and separation monitoring allows robots to work alongside humans by automatically slowing and stopping the robot's motion as necessary to ensure no contact with the human. The sensing capability of Veo's FreeMove system extends beyond the robot to include any parts or materials being moved by the robot during operation.
---
---
Says Veo, FreeMove's ability to enable this human-robot collaboration with industrial robots means CPG manufacturing engineers don't have to sacrifice reach, speed, or payload capacity when choosing robots for their operations. Veo currently has partnerships with robot suppliers ABB, Fanuc, Kuka, and Yaskawa Motoman, however, the FreeMove system is designed to work with any industrial robot.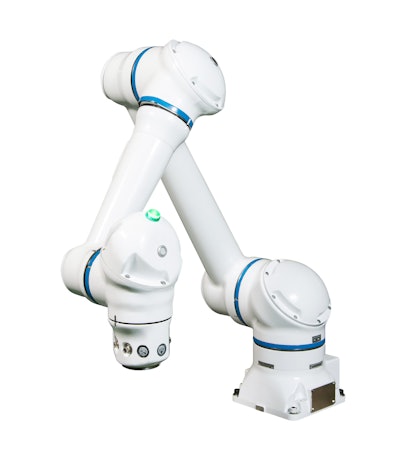 New from Yaskawa Motoman are two six-axis cobots in its HC series line, the HC10DTP and the HC20DTP, with payload capacities of 10 kg and 20 kg, respectively, designed for assembly, dispensing, machine tending, material handling, packaging, and welding. Hand-guided programming allows the operator to direct teach points without a pendant, and an ISO-standard tool flange and electrical connections facilitate a plug-and-play approach for easy deployment.
---
---
Allowing the cobots to work safely alongside humans, the cobots' Power and Force Limiting (PFL) technology constantly monitors force to quickly and safely react to contact, and advanced pinchless geometry provides "utmost safety," the company says.
According to Yaskawa, meeting established standards and complying to ISO TS15066, each robot offers four modes of collaborative operation and can easily shift between collaborative speed in PFL model or full speed in industrial mode, optimizing cycle times based on risk assessment and process requirements.
---
---
Companies in this article