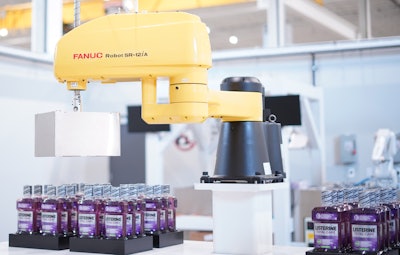 One popular style of robot for pick-and-place applications is the four-axis SCARA, or Selective Compliance Assembly Robot Arm (SCARA), robot. These robots are solidly mounted in a fixed position, with the arm set in the z-axis, and are popular for use in pick-and-place due to their high speed and accuracy. Other applications for SCARA robots include sortation, dispensing, inspection, assembly, and insertion tasks.
In May, Fanuc expanded its line of SCARA robots to offer more reach and payload options to those companies wanting to automate assembly, packaging, pick-and-place, and inspection processes. New models include the SR-3iA, the SR-6iA, the SR-12iA, and the SR-20iA, which offer 3-, 6-, 12-, and 20-kg payload capacities, respectively. As for reach, the models range from 400 to 1,000 mm.
---
---
As Fanuc explains, the SR-3iA and SR-6iA SCARAs have a compact footprint and space-saving design for maximum efficiency. Two three-axis variants of these models—the SR-3iA/H and SR-6iA/H—provide strong performance and an affordable alternative to small linear slide products. The higher-payload SR-12iA and SR-20iA are said to offer flexibility with a large vertical stroke and an environmental option for harsh conditions.
All models are equipped with Fanuc's R030iB Compact Plus controller, which includes integrated iRVision® and the iRPickTool conveyor tracking function, among other software programs. With the company's latest SCARA iRProgrammer user interface, operators can set up and program the robot on a tablet or PC; a Teach Pendant is optional.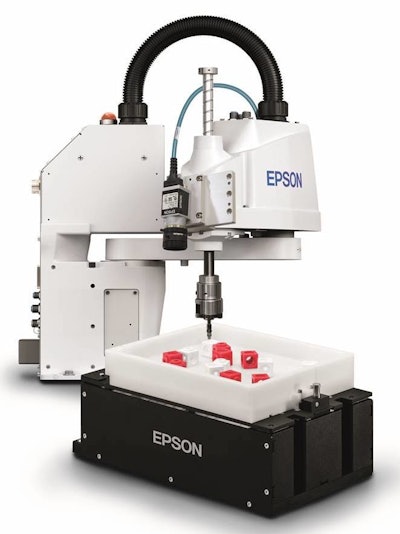 Late last year, Epson Robots introduced a single development environment for its IntelliFlex™ line of SCARA parts-feeding robots to include updates to its RC+® 7.0 development software, two new robotic feeders—the IntelliFlex 80 and the 380—and Add On Instructions for users of Allen-Bradley® PLC platforms to program and control Epson robots.
According to Epson, RC+ version 7.5.0 "helps push forward the standard in simplified automated robot solutions," by offering a design that helps users quickly and easily implement robotic solutions. "Epson RC+7.5.0 addresses two distinct automation trends—high-mix, low-volume parts feeding with IntelliFlex 80 and 380, and growth in PLC adoption with Add On instructions," says Epson Robots Director of Product Management Rick Brookshire.
Equipped with Epson's IntelliFlex software and Vision Guide point-and-click vision guidance interface, the company's line of four IntelliFlex feeding systems can accommodate a variety of parts, ranging from 3 to 150 mm. The two new models offers parts support from 3 to 15 mm (IntelliFlex 80) and 15 to 60 mm (IntelliFlex 380).
---
---
Epson Add On Instructions allow Allen-Bradley PLC users to seamlessly integrate Epson robots for applications ranging from simple pick-and-place tasks to even more complex tasks using the PLC programming environment they are already familiar with. The Add On instructions are compatible with Epson's full line of SCARA and six-axis robots.
Access the entire annual report on robotics from Packaging World: "New Advances in Robotics for Packaging"

---
PACK EXPO Las Vegas and Healthcare Packaging EXPO (Sept. 27-29, Las Vegas Convention Center) will reunite the packaging and processing community. With over 1400 exhibitors, no other event in 2021 will bring together a more comprehensive gathering of suppliers offering new products, technologies, and solutions. Attendee registration is now open.
Companies in this article