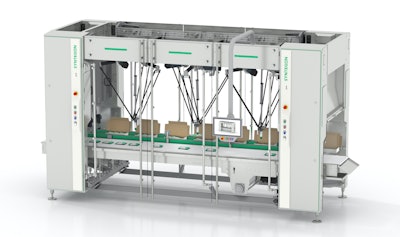 Syntegon's latest contribution in robotic technology is a new Robotic Pick & Place platform, the Syntegon RPP, for product handling, feeding, and loading applications. The system is designed to be modular, which allows for individual configuration of the robotic cells.
---
---
"Each customer project is different. Thanks to the modular RPP platform, we can handle a wide variety of projects," explains Andreas Schildknecht, Product Manager Robotics at Syntegon. "The delta robots can be flexibly connected and, together with transport modules, seamlessly integrated into an overall system." In one example, an RPP system configured for sandwich cookies has one module picking and placing the tops of the cookies onto the frosted cookie base, after which another module uses delta robots to pick-and-place finished cookies into trays.
Open-control software and a single control platform ensure seamless integration of the robots into the line. The RPP has a stainless-steel cell that meets the IP65 protection class, minimizing the risk of contamination for hygiene requirements in the food industry. As for product and packaging flexibility, reduced downtime is accomplished with tool-free changeover.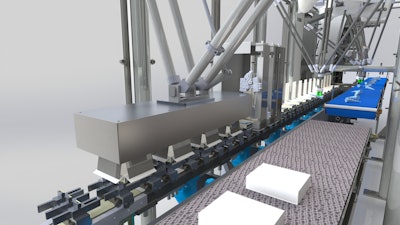 At PACK EXPO Las Vegas in September 2021, JLS Automation will be demonstrating its Peregrine® robotic cartoning solution, which forms, loads, and closes top-load cartons. As JLS explains, through a combination of proprietary technologies, the Peregrine enables full carton control—from forming all the way through closing—without turns or conveyors, at high speeds.
---
---
It adds that the JLS TRAK™ carton management system combined with the Peregrine's positive carton transport (PCT™) system keeps the Peregrine small and compact and eliminates the need for additional conveyors.
Once cartons are loaded, the JLS TRAK moves down the line where a vision-guided robot simultaneously closes the carton, picks it up, and places it on a discharge conveyor where it is sent downstream. Says JLS, "Unlike other cartoning systems, the Peregrine streamlines the process and eliminates the need for carton plows, tucker wheels, and several additional conveyors."
To address the issue of secondary packaging of products with transparent packaging and product variabilities, Propack Processing & Packaging Systems has designed and developed a new vision pick-and-place system with robotics partner ABB. The system allows for the detection of lucid pouches and bags for orientation to ensure consistent placement for the secondary packaging requirement.
The system has been designed with a full stainless-steel frame to meet sanitary food requirements and can be integrated to load a cartoner or flow wrapper, or for in-line inspection.
Access the full annual robotics report from Packaging World: "New Advances for Robotics in Packaging"

---
PACK EXPO Las Vegas and Healthcare Packaging EXPO (Sept. 27-29, Las Vegas Convention Center) will reunite the packaging and processing community. With over 1400 exhibitors, no other event in 2021 will bring together a more comprehensive gathering of suppliers offering new products, technologies, and solutions. Attendee registration is now open.
Companies in this article
Videos from Propack Processing and Packaging Systems Inc.