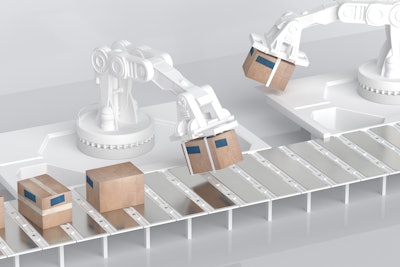 The last year-and-a-half has brought dramatic changes in consumer buying behavior that will have a lasting impact on how Consumer Packaged Goods companies equip their production operations. In the area of robotics, 2020 was the first time yearly orders of robots coming from the non-automotive sector surpassed orders for automotive applications in North America.
That's according to the Association for Advancing Automation (A3), which reports that sales of robotic units in North America increased 3.5% in 2020 from 2019. Even more impressive, Q4-2020 was the second-best quarter ever for North American robot sales, with a 63.6% increase over Q4-2019.
---
---
In food and beverage, year-over-year orders of robots grew by 56%. Among the drivers resulting from the pandemic were the increase in consumers shopping via e-commerce, a drop in labor availability, the need for social distancing within packaging plants, and a massive growth in core SKUs and increased capacity resulting from pantry stocking.
To meet CPGs' greater desire for automation, robotics suppliers have been busy innovating. Over the past year, they have introduced robots that are more flexible and can handle a greater variety of applications; more-complex vision systems; robot software and programming that's easier for newcomers to the technology; and end-of-arm tooling that handles a greater variety of products and offers faster changeover.
The following articles provide an overview of these developments, including innovations in articulated-arm, delta, and SCARA robots, cobots, end-of-arm tooling, and technology engineered specifically for e-commerce:
Six-Axis Robots Continue to Thrive
New introductions in six-axis, articulated-arm robots for packaging applications offer a longer reach, greater flexibility, and more options for robotic palletizing.
Cobots for Packaging Offer Greater Reach, Payload & Flexibility
Among new cobot introductions are those that handle heavier payloads for use even with palletizing applications and a unique new machine that's a cross between a delta robot and a cobot, called a 'sidebot.'
More Flexible Robots Allow for More Case-Packing Options
New robotic equipment enables end users to address the growing range of case sizes, counts, and formats required by their customers with ease of programming and changeover.
Pick-and-Place Beyond the Case
Robotics suppliers are introducing a range of new pick-and-place solutions for applications other than case packing, such as product handling, feeding, and loading.
---
---
New SCARA Robots Offer Ease of Integration, Programming
Among new offerings are an expanded line from Fanuc that has a compact controller with vision and conveyor tracking software and a single development environment from Epson for its IntelliFlex robots.
'Big Leaps' in End-of-Arm Tooling for Robots
Advances in end-of-arm-tooling include increased agility and intelligence, especially for food and beverage packaging applications, and greater ease of changeover.
E-commerce Poses New Automation Challenges
Two new robotic technologies help address e-commerce related packaging issues, including a reduced labor pool, the need for speed, and sorting of intermixed products.
Robots Handle Packaging of Pastries at 160 cakes/min
A modular packaging line at J. Skinner Baking Co. uses a number of robots to pack Danish pastries in clamshells and then into cases of various formats.
Robot Accurately Places Bin Lids at 45/min
A supplier of PET preforms for Coca-Cola, Western Container installs a lid-placing cell that features a six-axis robot that reliably and accurately picks and places lids onto reusable totes.
---
PACK EXPO Las Vegas and Healthcare Packaging EXPO (Sept. 27-29, Las Vegas Convention Center) will reunite the packaging and processing community. With over 1400 exhibitors, no other event in 2021 will bring together a more comprehensive gathering of suppliers offering new products, technologies, and solutions. Attendee registration is now open.