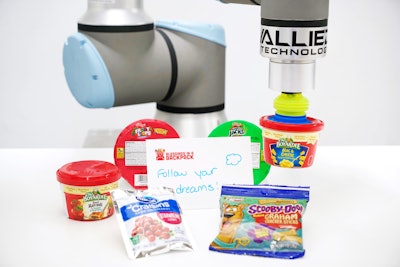 Universal Robots
With robot use in the packaging industry on the rise—it grew nearly 48 percent among food and consumer packaged goods companies (CPGs) from 2017 to 2018—the latest PACK EXPO Las Vegas and Healthcare Packaging EXPO found a great way to showcase these capabilities for a worthy cause. PACK for a Purpose: Robots Fighting Hunger featured exhibitor-supplied robots picking and packing food for children in the Robotics Zone in the North Hall of the Las Vegas Convention Center.
The collaboration between show producer PMMI, The Association for Packaging and Processing Technologies, and Blessings in a Backpack successfully filled more than 6,000 bags of nutritious, kid-friendly food for children facing food insecurity.
Robot suppliers were tasked with picking six different food items randomly oriented on a moving conveyor, then placing each of those items into the same pouch. With items ranging widely from packs of Craisins to cans of ravioli, it was an opportunity to show off how robotics technology is able to address the ever-increasing need for flexibility within the packaging space to meet consumer demand.
"Random picking is quickly becoming one of the most sought-after automation tasks from industries such as e-commerce, fulfillment centers and warehousing," said Stuart Shepherd, regional sales director for Universal Robots' Americas division.
For its part in the Blessings in a Backpack project, Universal Robots teamed up with machine builder and system integrator Allied Technology to demonstrate how UR collaborative robots (cobots) can be quickly deployed in a compact, modular system—including vision-guided conveyor tracking, robotic pick and place, bag dispensing, bag loading and unloading, bag sealing, case erecting, case loading, and robotic palletizing.
"We want to show how simple it can be to not only deploy cobots at different stages, but also show how multiple robots can seamlessly work together to complete an entire end-of-line packaging process," explained Matt Halley, general manager at Allied Technology.
The line featured four UR e-Series cobots equipped with products from its UR+ platform, which certifies grippers, vision cameras, software, and other peripherals to work seamlessly with UR's cobot arms. Piab's new Kenos KCS vacuum gripper was showcased on a UR5e guided by a vision camera from UR+ partner Cognex.
The six different food items were fed onto a conveyor and through the vision enclosure equipped with an infrared camera. The camera detected the product's location on the belt, while an encoder tracked the conveyor's belt speed and product position. A UR5e cobot received the encoder signal and camera information, using it to pick the product off the conveyor and place it into a bag at the bag loading station.
Once a bag had two breakfast items, two dinner items, and two snacks, a second UR5e would remove it from the bag holder and seal the bag. The filled and sealed bag was placed on a pedestal for the next cobot to pick.
A third robot, this time a UR10e, would pick a tote from a stack and erect it using a mechanical end-of-arm tool. The UR10e then picked a filled, sealed bag from the holding pedestal and placed it into the empty tote.
After the tote was filled, it would travel down the roller conveyor to the palletizer. Equipped with another UR10e, Allied Technology's Robotic Palletizer picked filled totes from the conveyor and placed them onto a pallet.
"We have a very compact, modular design, so all of these components are tightly packed," Halley said. "But thanks to collaborative robots, we can still have human intervention feeding in there."
Allied Technology also included a side demo, adjacent to the roller conveyor, where the same UR10e would pick two small boxes at a time off a modular belt conveyor. Just as before, the palletizing robot would pick and place in a standard palletizing pattern, this time on a separate pallet. The robotic palletizer alternated palletizing totes and boxes onto their respective pallets to demonstrate the versatility of the equipment and technology.
See the UR/Allied line in action in the Robotics Zone.
Other participants in the Blessings in a Backpack project included Bosch Packaging Technology; Chicago Electric; Fanuc America; and ProMach Performance Services with ABB, Soft Robotics, and Cognex. The 6,000+ filled bags were donated to Blessings in a Backpack programs in Las Vegas, Chicago, and Reston, Va., to feed school-aged children over the weekends.
"In this line of work, it's not often that we actually get to do a project that makes you feel good from the heart," said Gregg Buell, senior engineer for Fanuc America, who volunteered to design and build the work cell for the robotics manufacturer. "And that's what we're working on here."
It was a natural fit to have robots pack the bags of food at this year's PACK EXPO, said Brooke Wiseman, Blessings in a Backpack CEO. "It was all in the 'hands' of the philanthro-bots, and we are so grateful for their partnership," she said. "The impact on these communities is immense and we look forward to working with PMMI and PACK EXPO at their upcoming event in March."
Following on the success of the PACK EXPO Las Vegas collaboration, PMMI and Blessings in a Backpack will again collaborate at PACK EXPO East, taking place March 3-5 in Philadelphia.