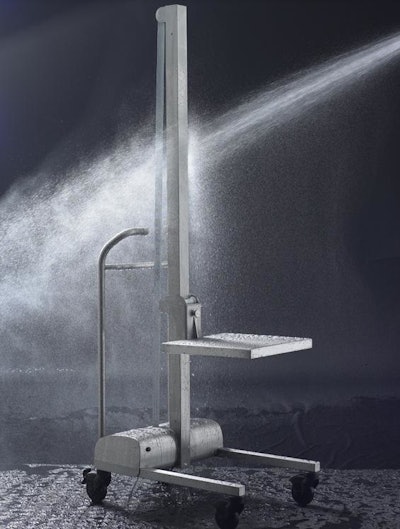 The TAWI CR80 is a stainless-steel, waterproof and dustproof belt drive lift system with all electronics safely enclosed in the chassis. These features allow it to operate in an easy and safe fashion within the most demanding environments while meeting rigorous sanitary requirements.
"The new CR80 includes a lifting belt coated with PVC for even easier cleaning. This makes it perfect for working environments where you need to clean the equipment daily. It is easy to wash the lifter with high pressure", says David Ranfalk, Technical Manager at TAWI.
The design, which was informed by decades of experience providing solutions to minimize contamination risk, makes it an ideal lift solution for food processing and many chemical and pharmaceutical work areas. Specifically, its closed construction design and smooth surfaces minimize particle accumulation and make it easy to clean with a high pressure cleaning systems and alcalic solvents.
The ergonomic TAWI CR80 seamlessly lifts up to 175 pounds. It also can be equipped with a wide range of different stainless-steel tools and accessories such as forks, booms and core grippers to customize the system to specific tasks. This flexibility creates cost efficiencies for customers by allowing them to attach different tools to the CR80 so it can be used to serve several work stations.
Operators can easily maneuver the CR80 as it sits on wheels that make it steady and smooth to drive while using its variable speed joystick. The system also equipped with a reliable braking system and Safe Drive function – ensuring that if a tool hits an object during lowering, it will stop immediately.