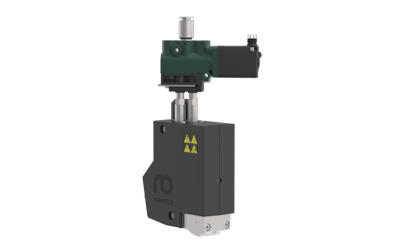 High-quality hot melt coatings form the basis for practical tear strips and secure silicone release liners on shipping packaging made of cardboard or paper as well as film. Robatech's Vivo 18 coating head offers the properties needed for this: It is narrow, fast, and delivers a very precise adhesive application.
The new coating head achieves uniform adhesive application through optimized distribution of the adhesive in the nozzle. The negative-closing jetting element and the ability to finely adjust the nozzle alignment to the substrate ensure a clean cut-off.
Packaging manufacturers can apply unglued tear strips directly to cardboard using the Vivo 18 coating head. This is because adhesive application from a width of 2 mm is uniform and precise even at speeds of up to 200 m/min, thus guaranteeing good adhesion.
For silicone release liners, the production speed can even be increased to 250 m/min. Format changes in the application width are easily carried out via exchangeable masks in the nozzle.
At 32 mm, Vivo 18 is the narrowest coating head on the market. Two heads can be mounted next to each other to save space, for flexible variants up to a maximum of two silicone release liners and one tear strip. In addition, the tapered nozzle ensures that adhesive can also be applied close to folded cardboard or the existing tear strip.

Companies in this article