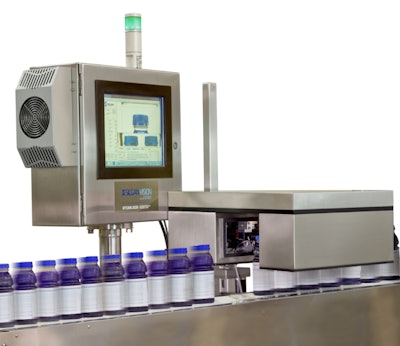 This means that the inspection function will not be a limiting factor to productivity as market demand requires faster filling and capping.
Available system options include confirming proper cap color and graphics. This popular system, which has been used to inspect beverage, cleaning products and other household products bottles and caps, detects and rejects incorrect, damaged or incompletely-filled containers before they can proceed downstream and potentially enter the marketplace.
The quality and specifications of other aspects of the system remain the same. The vision unit contains multiple cameras for 360° inspection of passing containers. The vision tunnel is mounted on a stand that enables the unit to be placed easily over an existing conveyor line, eliminating the need to break into a line to provide space. The unit can then be raised or lowered automatically as bottles being inspected change in height. The system HMI is mounted on a separate stand next to the conveyor and provides a 15-inch touch screen interface through which operators access inspection menus and initiate product changeovers. The HMI's menus can contain up to 50 product inspection target configurations and/or jobs.
The system includes an auto configuration teach function that is used to add new target configurations to the menu. The vision unit tunnel includes a motorized height adjustment that adjusts the unit as the recipe for a new bottle height is activated. Custom LED lighting within the tunnel provides for clear visual images.
Both the HMI and the vision unit are NEMA 4X rated, providing watertight washdown protection. The system is driven by a solid-state hard drive with backup function, and an Ethernet bay for online connectivity. Access to the system is password protected to ensure personnel can access only the functions for which they are authorized.
Options for the 51R56 include a filler-capper tracking system, a choice of pneumatic or soft touch rejectors, and a UPS and surge protection package.
Companies in this article