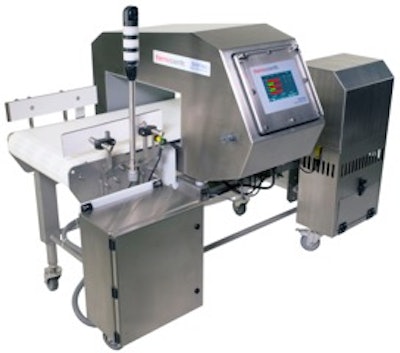 The Thermo Scientific Sentinel multiscan metal detector also enables users to identify contaminants that are up to 70% smaller in volume than previous technologies, including the Thermo Scientific APEX 500 metal detector.
The Sentinel metal detector is designed for a wide range of applications, offering improved performance for products such as dairy, meat, poultry, fruit, vegetables, bread, and health and beauty. Inspecting these products for foreign objects is especially challenging because of what is known as product effect, where the signal from a particular type of metal can be hidden inside the electromagnetic response of the product.
With prior technology, switching the operating frequency could make the hidden metal detectable, but could then make a different type of metal undetectable. Thermo Fisher designed the Sentinel to alleviate this problem by scanning multiple frequencies, increasing the probability of finding all random sizes, shapes, and types of embedded metal foreign objects.
Because the Sentinel metal detector has the same footprint and aperture location as the APEX 500 metal detector, users seeking to upgrade to the new platform can easily do so.
Companies in this article