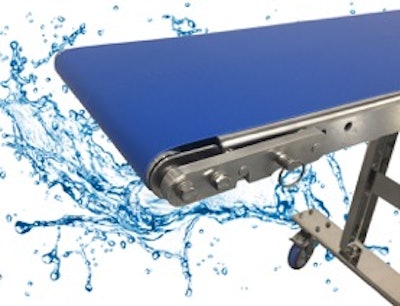 Procedure is:
Simply pull the two end pins
Lift up the end pulley
Lay the pulley on the frame or remove it completely
Slide the belt off
Clean, maintenance or make changes as necessary
Slide the belt back on
Line up the V-Guide on the pulley
Double check the belt is lined up with the V-guide
Reinstall the pins.
The tool-less belt removal and washdown stainless steel frame are essential in hygienic food, beverage, and pharmaceutical applications. Slim-Fit can be used in tight or narrow spaces for virtually endless product shapes and sizes.
Features include:
Center drive and center take-up
Strategically placed center drive design that keeps balance in the system and uniform depth or width on each conveyor end to fit in tight or smaller spaces
Simplified motor options
V-guided end pulley
Adjustable height from 30-48 in.
Optional casters
Easy to remove transfer plate
Mirror stainless steel finish (#8)
The flip-up end tail maintains tension and tracking - even during maintenance.
Companies in this article