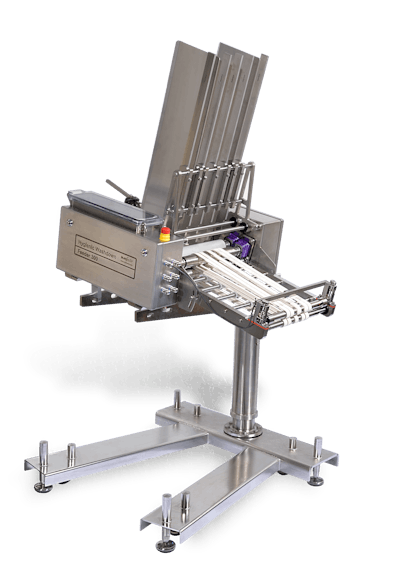 Multifeeder has combined its signature self-contained high performance controls with an IP 66 or higher water and chemical resistance to allow for "clean in place" use. The Hygienic Washdown offers sloped surfaces, minimal collection points, FDA materials, stainless steel with electropolishing, laser etching for sanitary labeling, and easy to clean design.
The "clean in place" design of the Hygienic Feeder 300 allows users to:
Feed a variety of products such as parchment paper, pizza labels, chip board, cardboard, scepters, and a wide range of other products.
Clean the feeder in place along with other equipment when running in environments where caustic wash-down is required.
Reduce risk of contamination by using hygienic designed equipment rather than standard equipment that was not designed for wash-down environment.
Easy changeover; new design allows for quick changeover of belt location which decreases setup time.
Laser annealing of information into the stainless steel allows information labeling to be on the feeder without compromise to sanitary requirements.
Powerful mechanics and controls allow for high performance applications.
Companies in this article