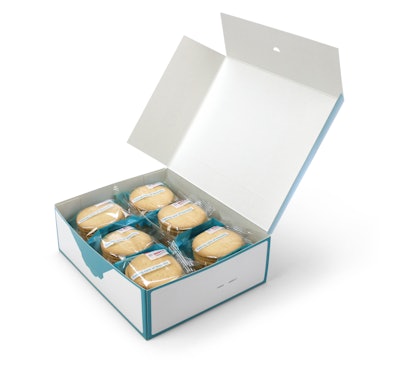 By significantly reducing the pusher's speed at the point of extraction and continuously guiding the product, this new solution enables higher production speeds.
Handling biscuits on conventional magazine feeders limits the number of products per stack to the number of extraction magazines, or a multiple of it. The new SPLfeeder enables manufacturers to select the desired stack count via the HMI independently from the number of incoming lanes (lane flexibility) and allows for easy changes to package configurations.
The ability to change the size, shape or number of biscuits in the pack is an important factor for manufacturers. To support this need, the Bosch SPL feeder is designed for stacking 2 to 7 products and grouping 1 to 4 stacks to create multiple package configurations ranging from 1 to 28 biscuits per package.
Additionally, due to its ability to automatically and dynamically extract a variable number of cookies from each magazine, the SPL feeder compensates when the product supply from the oven to the packaging system varies. By extracting missing cookies from one of the other lanes to build a complete stack, this feature also supports automatic lane balancing. As a result, manufacturers can now equip their production with fewer lanes, and automatically balance those lanes for increased uptime. In order to accommodate for inconsistencies in product thickness resulting from the baking process, the stacking mechanism can be adjusted via the HMI. This can be accomplished during production without stopping the system, resulting in higher Overall Equipment Effectiveness (OEE).
Companies in this article