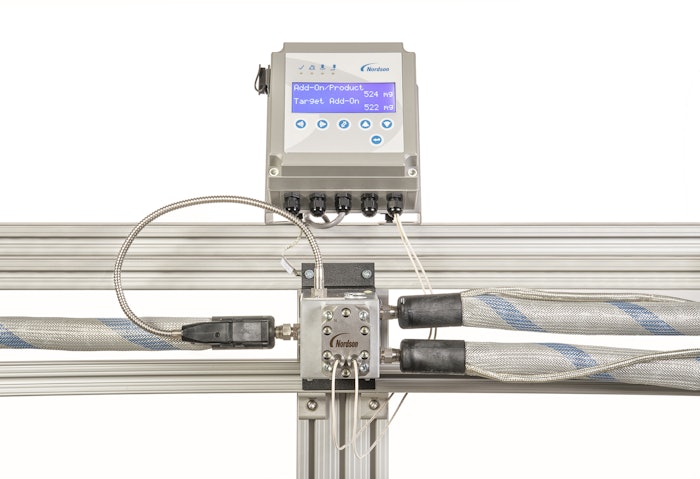 The ATS retrofit kit allows users to precisely measure adhesive usage in real time and receive an alert when the dispensed amount of adhesive goes outside of a pre-determined tolerance band.
Nordson's unique adhesive tracking system uses a precision gear flow meter. As the adhesive flows through the system, the ATS sensors track the rotating gears and sends that information back to the control box. The gears directly measure adhesive volume and alerts the system when the amount of adhesive per product is outside of a tolerance band set by the user.
An output signal can also be customized to stop the line, eject product or signal a light tower when a product does not meet the pre-determined standards. By tracking the precise amount of adhesive dispensed onto a package, users can save money, prevent adhesive waste, and improve product quality that minimizes pop-opens and costly rework. A USB port on the control box allows historical data to be downloaded and analyzed.
The new ATS retrofit kits contain all the pieces to mimic this capability on a previously purchased melter. The kit includes an external flow meter-manifold and a control box, which both have flexible mounting capabilities, allowing them to either attach directly to the melter or elsewhere on the parent machine. The kit also includes a sensor, hose and other necessary components.
Companies in this article