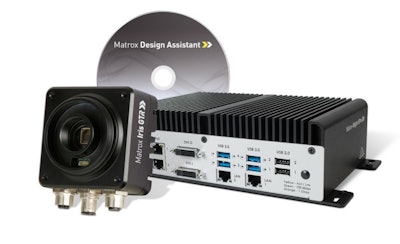 The latter inspection task includes reading packaging information printed as dot-matrix text using the new SureDotOCR technology, now integrated into Matrox Design Assistant.

Matrox Design Assistant is the first hardware-independent integrated development environment (IDE) that lets users create an application flowchart and HMI and take machine vision projects from concept to completion in record time, without the need for conventional programming.

The Matrox 4Sight GPm vision controller features a unique combination of embedded PC technology, compact size, and ruggedness making it an ideal solution for cost-sensitive image analysis and machine vision applications.

Matrox Iris GTR is an extremely rugged, IP67-rated camera measuring just 75 mm x 75 mm x 54 mm allowing it to fit into tight and dirty spaces. It uses CMOS image sensors with high readout rates and an Intel Celeron dual-core embedded processor, allowing it to inspect on faster moving lines or perform more inspections in an allotted time.

Also on display will be the Matrox SureDotOCR, a new vision tool, which can reliably read information applied by industrial inkjet printers despite text distortion and orientation as well as uneven backgrounds and illumination.


Companies in this article