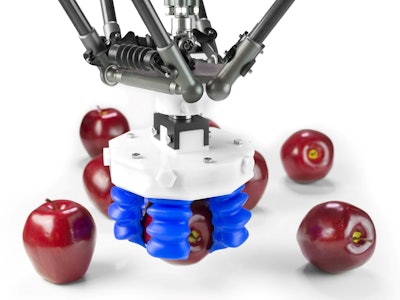 With developments by Soft Robotics, a single end-of-arm tool (EOAT) can now handle an unprecedented range of objects without the need for tool changes or software modifications between cycles. Soft Robotics has demonstrated the ability to grasp difficult-to-handle products with variable characteristics such as fresh produce or raw dough, all with a single device. This disruptive capability addresses unmet needs in existing markets and unlocks new markets for cost-effective automated solutions.
JLS partnered with Soft Robotics to help expand the capabilities of existing robotic packaging technologies. Grippers can now be integrated with JLS' EOAT, which truly act as fingers that gently pick and place hard-to-handle products. The grippers are adaptive, cost-effective, simple-to-use and can help bring automation to traditional manual packing applications.
At PACK EXPO International, the Soft Robotics grippers will be integrated with an Osprey robotic case packer. Daily demonstrations of a "kitting" application will be performed. The particular application displayed will be a salad kit where several items such as a bag of lettuce, a package of croutons, a pouch of dressing and various fresh produce products will all be placed into a single case – with a single EOAT.
Companies in this article