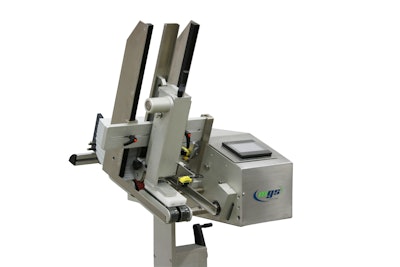 MGS Machine introduces the Pulse™, a new high-speed friction feeder that eases maintenance with fast and easy removal of wear parts. With no tools required, friction belts and the friction meter wheel can be replaced in minutes. The one-lane, servo-driven friction feeder simplifies operations, reduces downtime, and achieves speeds of up to 300 products/min.

The Pulse is suitable for packaging pharmaceuticals and medical devices. It feeds paper, cardstock, chipboard, corrugated, glassine, labels, multifold coupons, and booklets and dispenses them to a flat-belt or flighted conveyor or into a target component like an open carton. It handles packaging dividers, backer boards, inserts, and other flat, stackable products that are 2 x 2.5 in. to 12 x 16 in. in size.

The Pulse features a unique single-sided design. Unlike other friction feeders with side-plates on both sides of the feeding area, the Pulse is open on the non-drive side. This offers complete accessibility to friction belts, the friction meter wheel, and the drive belt for faster replacement of parts. The design reduces mounting interferences with parent/host machines. It enables operators to quickly clear product jams or misfeeds, reduces catch points for products to fall through and become lodged, and helps speed product changeovers to two minutes.

Friction belts can be replaced in less than five minutes with no tools required. This is achieved with the single-sided design as well as quick-release features and the absence of a captive drive belt that spins the two friction belts.

MGS' patent-pending friction meter wheel comes as a complete assembly housed in a cartridge that enables users to quickly swap the wear part by simply changing the cartridge. The friction wheel can be replaced in less than five minutes with no tools required.

A quick-change rotating gate ensures uniform wear and can be replaced without the use of tools in a matter of minutes. The product registration assembly is on a pivot. This allows the operator to position the device out of the product feed area to gain access to clear a misfeed and ease product setup and changeover.

The Pulse comes standard with a horizontal discharge and batch counting capability. Options include vertical placement module, U-board folding module, and discharge extension. These options can easily be added to the Pulse friction feeders installed in the field. The extended discharge allows the Pulse to place cards, coupons, and inserts into top-loading cartons and other packaging machines. Equipped with the extended discharge, an optional inline barcode reader and other vision inspection devices can be added to the Pulse to detect print errors and trigger a downstream reject system.

Standard construction incorporates a sanitary design that is suitable for most pharmaceutical applications. The Pulse comes with a standard conveyor mount for easy integration with a variety of host machines or an optional floor stand with optional castor wheels. It can be equipped with a screw height adjustment that speeds installation as well as product changeovers.

The Pulse is easy to use with a color touchscreen and intuitive user interface. It comes with a standard 30-in. magazine to hold product. For additional runtime, an extended-capacity magazine is available. An optional low hopper sensor and optional stack light with audible alarm alert an operator if materials in the magazine are running low.
Companies in this article