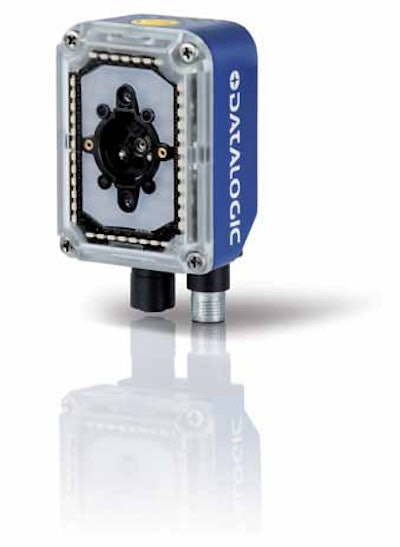 The Matrix 300™ combines a high resolution sensor with ultra-fast image acquisition: 1.3 megapixels, 60 frames per second. The optical system incorporates a liquid lens module for the electronic control of the focus. As result the reader offers automatic focus adjustment without the addition of moving parts.
The integrated illuminator is embedded over the entire front surface of the reader. This innovative design results in bright and uniform illumination of the bar code. The lighting design uses both bright field and dark field patterns which provide perfect illumination on normal, etched, highly reflective or textured surfaces.
With exceptionally small physical dimensions and rotating connector, the Matrix 300™ can be easily integrated into the tightest spaces. The Power over Ethernet (POE) option is one of the unique cost effective features, power and communication is provided to the reader through a standard single Ethernet connection.
Highlights
• Ultra-compact reader
• High performance DPM reading
• Liquid lens electronic focus control
• Integrated dual illuminator: dark field/bright field
• Fast and high resolution image sensor: 1.3 megapixels, 'true' 60 frame/s
• Power over Ethernet Option
• Extreme Industrial grade: IP67,
0-50°C operating temperature
• Precise dual laser aiming system
Applications
• Manufacturing, Electronics and Automotive:
- DPM code validation after marking
- Work-in-progress control
- Parts and assemblies traceability
• Food and Beverage
- Work-in-progress traceability
• Document Processing
- High speed process control
• Medical
- Medical device traceability
• Clinical Lab Automation
- Biomedical analysis machines
- Specimen collection machines

Companies in this article