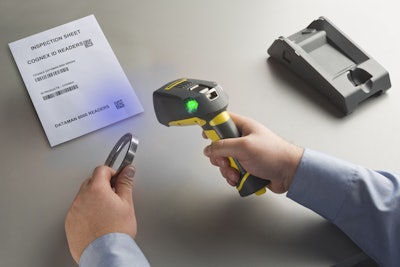 The new features also include a rapid dual-focus image acquisition routine, which enables the readers to decode a wide range of barcode sizes even faster.
1DMax+ with Hotbars enables the DataMan 8000 series to read challenging 1-D barcodes quickly and easily even when barcodes are damaged, blurred, at extreme perspective, or otherwise challenging.
Utilizing the 2DMax+ algorithm, the DataMan 8000 series provides fast decode times and is effective even on codes with perspective distortion, low contrast, or finder and clocking pattern damage. The DataMan 8000 series now allows the user to select the type of code to be read (from easy to extremely challenging). This is especially useful for increasing reading speeds when only printed or high-contrast codes are being read, or when facing the most challenging DPM codes that cannot be read with standard settings.
The DataMan 8000 series is also now equipped with patented auto-exposure algorithms and faster image acquisition and liquid lens performance. The faster imaging means readers can now be used in a dual focus mode, which allows users to increase the depth of field or to read a wide range of barcode sizes, from very large multi-inch barcodes to tiny 5 mil 2-D Data Matrix codes. 
The DataMan 8000 series is available in two base models.  The DataMan 8500 readers incorporate patented UltraLight technology for quality image formation on any code type and surface. UltraLight illumination provides dark field, bright field, and diffuse lighting all in one electronically controlled light.
The DataMan 8100 includes all of the features of the DataMan 8500 readers as well as bright field illumination. The DataMan 8100 readers are suitable for applications that require code reading performance without specialty lighting.
 
Companies in this article