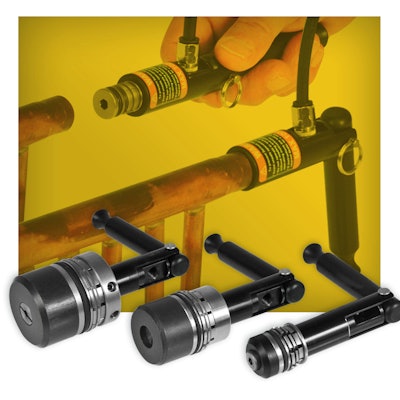 Intended for non-threaded openings, JNL Series connectors seal straight bore, step bore, smooth, or cast surfaces, and the unique design accommodates internal pipe diameters from 0.375- up to 1.625-in. Their easy lever action makes grip-and-seal connections from vacuum to 750 psi, delivering a solution for bubble, pressure decay, and mass spectrometer testing. These flexible connectors simplify testing and increase overall efficiency.
All JNL Series connectors include pressure-assisted gripping collets, a safety feature designed to prevent accidental disconnect under pressure. These collets are engineered to provide maximum grip of the test piece. The durable neoprene main seal is ideal for production applications, and the mating seal is easily replaced without disassembly or tools. Connectors are leak tight to 10-7 cc/sec and are robust enough to withstand tens of thousands of cycles.
JNL Series connectors provide a value-based, safe solution for diverse testing needs and suit a wide range of applications, including: pressure or vacuum tests; water dunk tests; manual grip and seal connectors; heat exchangers; pressure vessels; gauges, valves and transducers; HVAC systems; and coil testing.
Companies in this article