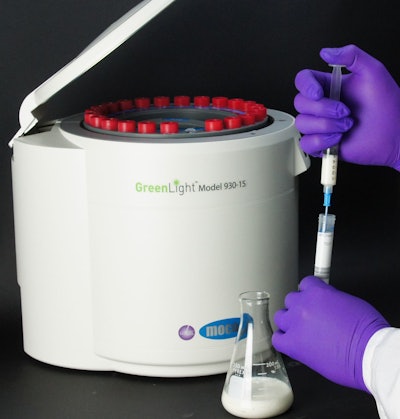 GreenLight delivers speed, simplicity, precision, and low-cost entry when measuring bacterial loads. Designed for anyone involved in raw milk testing including dairies, cooperatives, laboratories, and farmers, the series also provides valuable information for downstream processing, such as cheese making, when milk is a primary component.
To conduct the test, the milk sample is simply poured into a bar-coded APCheck vial, which has built-in sensor material.  Raw milk has sufficient nutrients so that added buffers/reagents or dilutions are not required before testing, unlike traditional testing methods, which require three dilutions.
When the company's fully automated GreenLight 930 is used, the vials can be batch loaded onto the 48-position carousel, or individually loaded at any time during the unit's "continuous" mode.  As bacteria in the test sample multiply and respire, they consume oxygen.  The change in oxygen is used to calculate the milk's colony forming units/milliliter. (Bacterial load is calculated in the PC and stored to a secure database.)
There is also a smaller, more compact GreenLight 910 which makes it easier for dairy farmers to use closer to the milk source.
Companies in this article