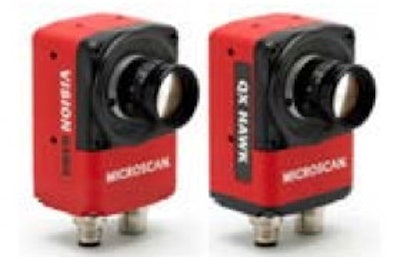 The QX HAWK barcode imager is designed for industrial track and trace applications, with powerful algorithms for reading linear and 2D barcodes. The rugged Vision HAWK combines this decode capability with a complete vision toolset for inspection and identification tasks. Both products can now be used with interchangeable lenses for applications such as high magnification and wide fields of view.
With industrial IP65/67 housing (with lens cover) and built-in Ethernet connectivity, the QX HAWK and Vision HAWK are easy to incorporate into any production environment. Their compact size and flexible configurations simplify integration. The QX HAWK uses Microscan's latest X-Mode decoding technology to read any 1D or 2D marked barcode, from a high density 3.3 mil Data Matrix to a very large linear code, to a low-contrast DPM. The Vision HAWK features easy set-up and operation with Microscan's intuitive AutoVISION software interface, including powerful decode tools for reading barcodes and text (OCR), and inspection tools for cap alignment, label positioning, fill level verification, and more.
Compatible accessories include interchangeable lenses from 8mm to 75mm focal length, skylight UV and polarized filters, extension tubes, and lens housings providing IP65/67 rated protection.
Companies in this article