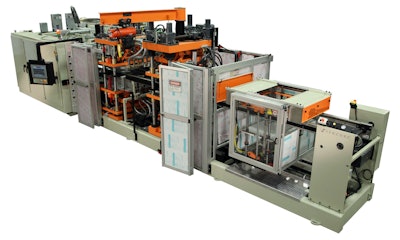 A larger forming area allows companies to increase production on existing parts and form larger parts to handle end user demand for increased package diversity and provide flexibility for shorter runs.
A longer oven with additional heating zones offers better control of sheet temperature, increasing production throughput with polyesters, which have a narrow process window and can be difficult to precisely heat. The 2500 Ultra provides better temperature control, which also makes thermoforming RPET easier.
Increased tonnage forming and cutting presses provide several benefits, including the ability to trim more linear inches and increase throughput on difficult to cut polyesters. Automatic shut height adjustment available on both the forming and trimming presses cuts tool changeover time and eliminates the requirement for "make-ready" plates and shims. Standard 7-in. stroke for both forming and trimming presses.  Optional automatic offload systems now match thermoformer cycle speeds, so that the thermoformer's production is no longer paced by either manual or robotic offload.
Companies in this article