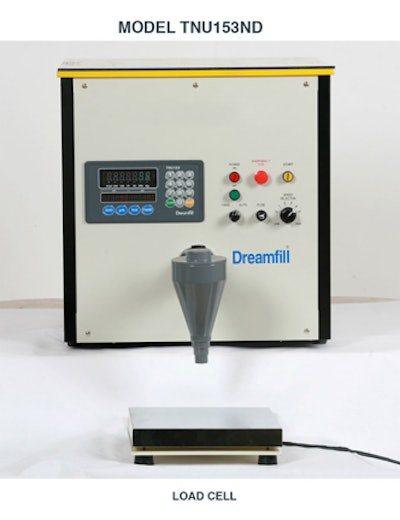 Dreamfill Inc. is the developer of the latest innovation in table-top filling systems. The Dreamfill machine allows you to fill many types of fine particulate matter, including food, pharmaceutical, chemical, metal powder, spices, and toner products directly into bottles, bags, cartridges, pouch and other containers quickly and accurately.
Compact enough to sit on a work bench or fit on a cart, the Dreamfill system is easy to use and easy to maintain, which makes it perfectly suited for small and large production facilities alike.
Our US-patented and ISO 9001=2000 certified quality powder filling machine offers you speed, reliability, and fill accuracy. The Dreamfill system has the following features, other filling machines do not:
• Fifty (50) programmable settings
• Two (2) fill speeds: slow and fast
• Accurate weight control
Dreamfill offers you quality and performance in the design and manufacturer of low maintenance and highly reliable powder filling machines. Our system is used by leading companies around the world. Why? The bottom line is to save money by using a more cost efficient filling system.
Dreamfill is the POWDER FILLER that's right for you. For more information please visit www.dreamfill.com
Sincerely, Kyu Rhee Dreamfill Inc.
206-274-8118
206-274-8129 fax
E-Mail :info@dreamfill.com
www.dreamfill.com
Companies in this article