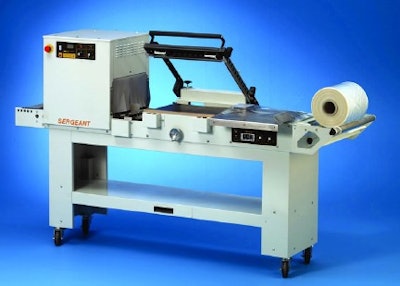 It surpasses comparable machines in performance, flexibility, and value. It can be used for a variety of applications including printing supplies, electronics, hardware, and frozen pizza among others.
The Combo 115/230 is designed for low maintenance and energy use. The patented Simpulse ™ Heat System on the L-Sealer is an impluse trim sealer allowing for lower energy use and greater safety from accidental burns than constant heat units. The system employs automatic heat compensation to match the usage rate eliminating the need for constant readjustment. And, an automatic cool down circuit allows the operator to safely walk away immediately after producion is complete.
It has a production speed of 15 cycles/minute. The seal arm of the Combo 115/230 has an adjustable height mechanism which reduces operator fatigue and increases productivity.
Standard Features:
• Stainless steel loading table
• Film perforation wheels
• Heated silicone rubber conveyor belts with variable speed control for the tunnel.
Options Include:
• Automatic take-away conveyor
• Console stands with heavy duty casters
• Teflon curtain with roller assembly for PVC or polythylene film
• Extra film perforation wheels
• Solid state tunnel temperature controls with digital display
Technical Information:
• Max Film Width : 24"
• Max Product Size (L x W x H) : 20" x 14" x 7"
• Max Output (cycles/min) : 15
Companies in this article