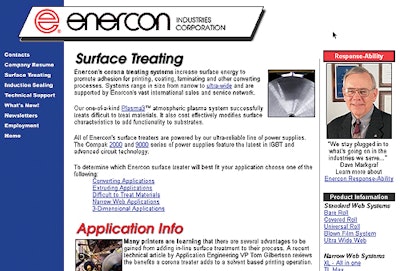 Enercon
Redesign lists information on the company's surface treating equipment by application.
Dow Chemical, Fabricated Products
The company's performance foams site is
simplified with sections including case studies, products, and tutorials.
Foodservice & Packaging Institute
New site uses search engine and drop-down menus for easier navigation. Look for monthly surveys and a foodservice educational game.
George Gordon Associates
Packaging systems now have Web Connect Technical Center software for troubleshooting and problem-solving online.
International Fresh-cut Produce Association
Redesign offers easier navigation and a new, searchable member database.
Sepha
Site offers technical articles, specifications,
and video clips of the company's blister-packing and leak-testing pharmaceutical machinery.
Smurfit-Stone Container
New Solid Bleached Sulfate (SBS) section has descriptions on all SBS, from bakery boxes to blister board.
Society of the Plastics Industry
In preparation for NPE 2003 plastics exposition, a new Web page offers visa applications and links to U.S. government sites for international visitors.
Companies in this article