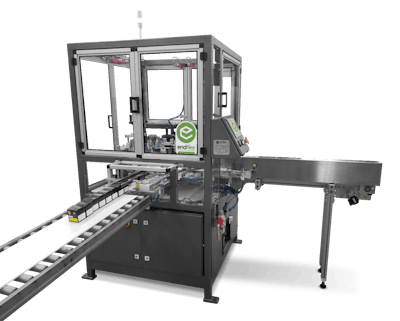 The Paxiom Group offers sales and service for industry packaging machinery manufacturers WeighPack Systems, EndFlex, ValTara and CombiScale and offers a wide range of primary and secondary packaging solutions for all production requirements and budgets.Here's a taste of what was new.
Paxiom Makes Pre-made Pouch Filling Easy
As demonstrated at PACK EXPO Las Vegas, the Swifty Bagger™ is designed to automatically open, fill, and seal pre-made bags and stand-up pouches reaching speeds of up to 2,500 bags per hour. It comes equipped with a horizontal infeed conveyor and an easy-load bag magazine ensuring that pouches enter the machine consistently and square every time.
Contrary to traditional rotary bagging machines, the Swifty Bagger's innovative in-line design makes maintenance hassle-free. Parts are easily accessible, and operators see the entire filling process without the inconvenience of blind spots.
Sound engineering and an open design make the Swifty Bagger highly conducive for food safety standards. Food product does not contact heavy duty mechanical componentry as all cams are located at the very back of the machine. Other standard features include a photo sensor for bag opening detection, funnel clog sensors, variable speed control, and Allen Bradley PLC touchscreen.
But the Paxiom launch wasn't the only big PACK EXPO news in the stable of brands. A few more new releases from the Paxiom Group follow.
XPdius' High Performance Vertical Bagger XPdius™ Elite i-130
The XPdius Elite vertical form, fill & seal machine (v/f/f/s) is designed for high performance, speed and service-ability. Capable of producing up to 100 bags per minute, the XPdius vertical bagging machine includes twin servo motors and drives, which assure total control over acceleration, deceleration, and positioning while ensuring high performance throughout production.
Designed with the operator in mind, standard features include a heavy-duty one-piece stainless steel welded frame, vacuum pull belts for ultimate film control and a hinged electrical enclosure that allows for dual mechanical access on either side of the bagging machine. Available options include gas flushing, polyethylene seal assembly, hole punch, pivoting pouch support, bag squeezers to reduce air in head space, and provisions for code dating/printing devices.
Valtara's SleekWrapper Offers a New Economical Flow Wrapping Solution
The SleekWrapper 40, the new fully servo-driven horizontal flow wrapping machine is designed to provide smaller or start-up operations with all the efficiency advantages of a 4-axis servo drive, at entry level cost. Measuring 87" long and equipped with wheels, this flow wrapper is very compact, making it ideal for usability in a limited production space.
Built in a heavy-duty stainless steel frame, the new Sleek40 Wrapper is capable of wrapping 60 to 100 packs per minute. A fully adjustable forming box makes it suitable for both food and non-food products, even medical equipment.
The innovative Sleek 40 Wrapper comes with an easy-to-operate color touch screen and is built to quickly recall specific recipes with its 100-product memory setting. Its cantilevered body and infeed are designed for easy cleaning and maintenance to ensure the highest levels of hygiene.
Also, ValTara's new Monoblock bottle filling system is designed to automatically fill liquid, insert a dropper and cap. It is engineered to fill up to 3,600 bottles per hour.
Bottles enter this all-in-one system and travel clock wise from the initial liquid fill to dropper insertion and then to the cap tightening / torqueing station. Once complete, containers can then be automatically labeled, carton loaded and case packed.
Standard features include up to four filling stations, a product dosing range up to 200 ml, stainless steel AISI 304 contact parts with Allen Bradley PLC and HMI.
EndFlex Packaging Machinery's New Vertical Carton Forming, Loading, Closing System
EndFlex introduced its new automatic vertical carton forming machine and container inserter, the Kartnr™.
Commonly used for cosmetics, medicinal, pharmaceuticals and many every day consumer products, the Kartnr™ is engineered to form "auto-lock" or "pop-open" cartons, automatically insert containers and close the lid. Options available include glue, fold & tuck as well as tape.
The company is also showing its PopLok®, manufactured by EndFlex, is a customizable automatic tray forming solution designed to erect self-locking corrugated and paperboard trays with or without a lid. It is capable of forming 1-tuck, 2-tuck, and multi-tuck trays.
Built in a heavy duty welded steel frame and constructed with durability and longevity in mind, the PopLok operates efficiently by gently pulling tray blanks, one at a time, from the hopper to a forming section where precise plows then erect the side and end panels of the tray. At the same time, the minor flaps are folded, and the tray finally passes through a set of side bars that fold and lock the roll-over flaps into place.
Using no glue or tape, the PopLok handles a large variety of blank sizes and configurations to produce an impressive finished tray. Delicate machine handling ensures that tray graphics are not marred in any way for retail-ready display requirements.