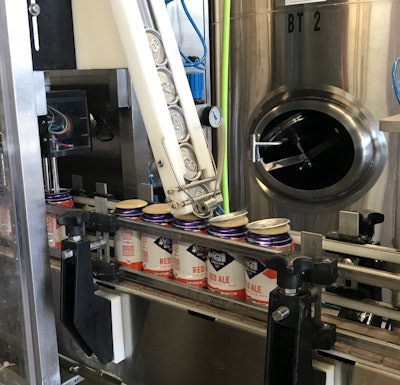 Lone Tree Brewing hosted Packaging World on a tour as part of the Craft Brewers Conference, Denver, CO. The company recently installed a labeler, via Cask Brewing Systems that will afford flexibility for small-batch brewing with unique labels, while keeping all processes in-line. The labeler can easily be turned on during bright stock labeling operation, then turned off again when running longer runs of a more standard varietal of Ball printed can.
When ready to label bright stock, Kyle Holechek, packaging manager, says he simply needs to tighten the labeling system to the line for PSL application via rollstock. No heat or air blade are necessary in the system after the fill and seam since the label application process itself pushes any moisture out – adherence is satisfactory without having to dry the cans.
Holechek also watches dissolved oxygen closely and keeps it to around 30-40 ppb to ensure strong shelf-life. As such, cans run at a slight overfill. A 360-g can is kicked out of the line as an underweight, with 370-385 g being the target range. While this is slightly over 12-oz. mark, it insures the cans will last in a retail environment.
The Cask system features depalletizer, twist rinser, and a six dual-head-filler/seamer with coding and marking. Cans pass through the labeler and rune 90 degrees into a can-handle applicator. The only format on this Lone Tree line is six packs of cans arranged in 24-count corrugated trays. Trays are hand palletized, stretch wrapped, and head a short 50-yeard distance to a cooler contiguous to the property.
Companies in this article