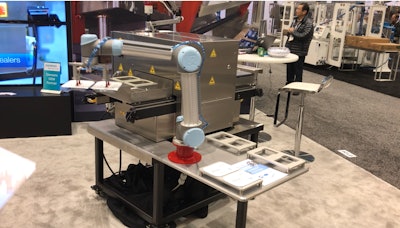 Beyond demonstrating the collaborative potential of robots like the UR model, the tray sealer itself is 100% validatable and calibratable. The MD Series sealers include standard features such as PLC control system with touch-screen HMI; short cycle indicator; high/low temperature alarm; high/low pressure alarm; resettable cycle counter; external output ports (temperature, pressure and dwell time) for process control verification and calibration; and key switch lockout features to limit access to the set-up screens. The units are ISO 11607 compliant and CE compliant. Sample IQ/OQ protocol documents are available with standard models.
By far, validation and meeting FDA regulations cause the biggest concerns for medical device manufacturers. Determining an appropriate sample size for medical device package testing is crucial in the validation of a sterile barrier system. ISO 11607:2006, Part 1 and Technical Information Report TIR 22:2007 are the relevant compliance and guidance documents. TIR 22 provides the detailed procedures necessary for installation qualification (IQ) and operational qualification (OQ).
By providing IQ/OQ protocol documents, SencorpWhite helps medical device manufacturers, contract manufacturers, and packagers to set-up testing protocols and document test results. All SencorpWhite MD-Series tray sealers include a full 2-year warranty.
In addition to the MD-1612 table top shuttle tray sealer and MD-2420 shuttle tray sealer, SencorpWhite also offers in-line tray sealing systems.
Companies in this article