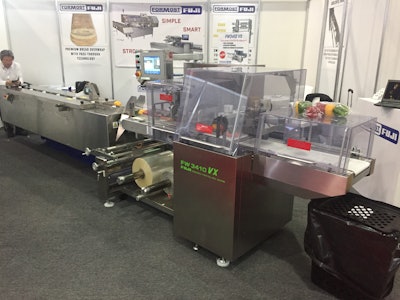 Among Latin American countries, Mexico in particular enjoys a year-long produce schedule that is constantly shifting in season from one vegetable or fruit variety to another throughout the year. The market demands flow wrapping machines for whole produce that are flexible enough to handle a plurality of fruits and vegetable sizes, weights, and consistencies, and to be able to change over from one to the next with ease.
That's why Foremost Fuji used EXPO PACK México 2018 to demonstrate its FW 3410 VX horizontal flow wrapper—the VX indicating its initial design for the vegetable market. It's a flexible machine, capable of flow wrapping peppers, lettuce, carrots, asparagus, and a lot more. This wrapper provides easy operation with an open top adjustable former that enables easier film threading and product size changeover.
"It's not a full washdown machine, but it's not a basic machine, either," says Dennis Quinn, sales coordinator, Foremost Fuji, "It's designed to hit that niche. "It's also a pretty small footprint for what it does. We have some customers that move them to different locations as the seasons change. Some even put them on a tractor and take them right out onto the field as part of the process line. The machine can also be used for tortillas, and many other different products, rather than a line dedicated to run a single product all day."
Features that support this flexibility include an adjustable forming box, a user-friendly HMI that switches between Spanish and English.
"Historically in this region, that market has been taken up by manual loading. But volumes and demands are such that a machine that's designed to run 24/7, to run with printed film and better sealing material, that's where things are headed."

Beyond Latin American produce market needs, the machine also easily integrates into more sophisticated lines and could work as well with a robotic or mechanical loading and feeding system for, say, the baking or pharma industries.
Companies in this article