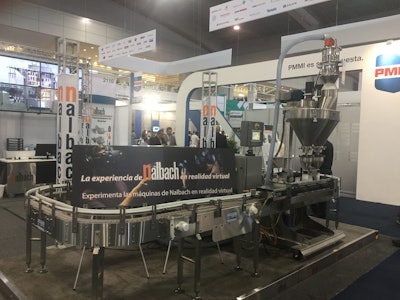 According to several exhibitors, powders were a top of mind issue for many EXPO PACK México 2018 attendees. Anticipating this, Nalbach demonstrated an M2 Multilane Auger System, a dual auger system, that uses a timing screw to index two containers at once underneath the augers at a rate of 30/min per auger, or 60 containers/min. A Piab vacuum system supplies product, whether powder or larger particulates, to each auger.
Many auger systems utilize a bracket around the tooling at the neck of the hopper. This means that if an operator were to drop the hopper to make an adjustment or clean out product, that would require a 10- to 15-minute adjustment to ensure that the auger tool within the hopper is properly aligned.
"We do not do that," says Ed Atwell, VP of Marketing at Nalbach Engineering. "The top plate is a very thick, strong piece, and we design everything off of the plate to be sure everything is true and square from the top plate down through the tooling within. That keeps operators from having to go through that secondary adjustment.
"We also stay away from clutch brake controls on the hoppers because it's an extra 30 components, a lot of maintenance and replacement parts," Atwell says. "So while it's more expensive, we use direct drive servo systems on all our auger systems."
While this system displayed at EXPO PACK México 2018 is a dual auger filler, end users can easily double, quadruple, or more the amount of auger fillers on a given line, for greater throughput. One multi-line has 13 augers
Atwell used dish washer detergent pods as an application example. These pods tend to have a powder on one side, a liquid on the other side; these auger fillers are responsible accomplishing powder side of each pods.
Companies in this article