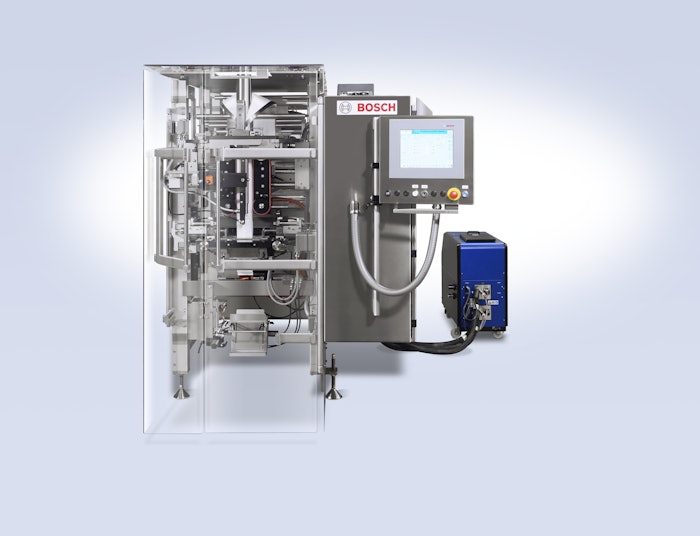 Sure to attract sugar manufacturers, the SVE 2520 ZAP, Bosch's first continuous-motion v/f/f/s machine, is now capable of producing dust-tight, sealed paper bags. Meanwhile, flour producers gravitated to the upgraded PME mandrel wheel machine with ZAP-Module.
"The positive market reaction to the launch of Sealed Paper Packaging in 2016 led to an extension of the ZAP-Module within our portfolio. By offering two alternative technologies now equipped with the ZAP-Module, we are not only able to answer the individual needs of dry food producers, but also give them the possibility to differentiate themselves by offering consumers completely recyclable paper packaging – at the same time improving product quality," says Bernhard Bruhn, product line manager dry food at Bosch Packaging Technology.
Until now, mono-material paper packaging was only possible with glued, pre-made bags or formed paper bags on a mandrel wheel. But while the general v/f/f/s concept is flexible with formats and pack styles, it previously only allowed bag production using polymer film or fully coated paper. With the ZAP-Module from Bosch, it is now possible to process mono-material paper on VFFS technology with dust-tight sealing.
Axello®ZAP paper from BillerudKorsnäs, specially developed for this and the ZAP-Module application, uniquely allows for heat sealing. The ZAP-Module partially applies a minimal amount of the sealing agent during the packaging process, thus enabling heat sealing of the paper on the v/f/f/s machine. This new sealed paper packaging is also available for the mandrel wheel machine to improve the traditional paper bags produced on this type of machine by making them dust-tight. As a result, retailers and consumers profit from clean shelves, enhanced product protection from contamination and thus improved product quality.
Companies in this article