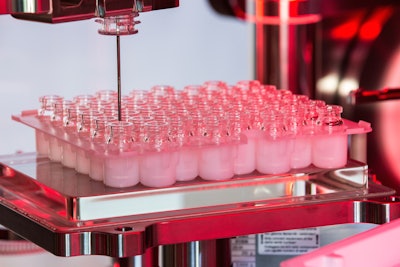 AB BioTechnologies (AB), a provider of contract development and manufacturing services for the pharmaceutical industry, selected Vanrx Pharmasystems to provide aseptic filling and lyophilizer loading systems for its new facility in Bloomington, IN.
AB BioTechnologies reportedly will be the first company in the U.S. to operate a complete Vanrx system, which consists of the SA25 aseptic filling workcell, accumulator and lyophilizer loader. Vanrx offers a gloveless robotic isolator system for aseptic filling and lyophilization of sterile injectable pharmaceuticals that can support clinical and commercial drug production.
Currently under construction, the 23,000 sq-ft manufacturing facility will house the Vanrx aseptic filling equipment within a prefabricated modular cleanroom from Biologics Modular, and attached to a lyophilizer from SP Scientific. The VanSA25 will be installed for liquid GMP manufacturing by the fourth quarter of 2017, with added lyophilization capabilities beginning in 2018.
AB is expanding its services to enable customers to develop new drug products from preclinical through clinical trials using a single provider. The company's expansion into automated aseptic filling and lyophilization complements its existing offering of formulation, analytical services, lyophilization cycle development and GLP/tox manufacturing.
"The flexibility and aseptic assurance of the Vanrx system will enable us to provide exceptional service to pharmaceutical companies. Clients will be able to bring drug products to market faster, with stable formulations and with process development already well underway for commercial production," says Jeff Schwegman, Chief Executive Officer of AB BioTechnologies.
"For a customer with Jeff's high level of knowledge to choose Vanrx is a vote of confidence in our approach. We share their view that more companies should be able to bring drugs that benefit patients to market," says Vanrx CEOChris Procyshyn.
Vanrx aseptic filling workcells enable the production of liquid or freeze-dried drug products in a variety of vial, syringe and cartridge formats. It is a fully integrated, automated aseptic filling system that combines robotics, gloveless isolator and machine vision technologies.
Companies in this article