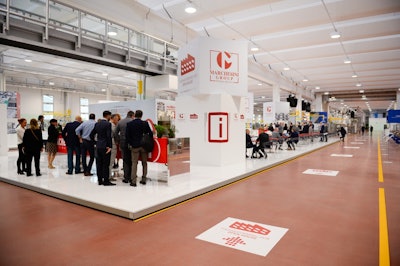 The Marchesini Group's Oct. 17-21 Thermoforming Hub Open House in Carpi, Italy, allows visitors to see the company's production facilities and participate in workshops that will address issues such as serialization and Made-in-Italy technology for the pharmaceutical market. Visitors have the opportunity to talk directly with designers and closely observe the working methods and technological novelties of the equipment.
The Open House culminates on Oct. 22 when authorities, citizens and all of the employees of Marchesini Group will attend the inauguration of the biggest national thermoforming hub in Carpi (in the province of Modena, Emilia-Romagna). Once it is up and running, this Hub—that is rising brick-by-brick thanks to 300 people working on a 14,000 square meter site and in which Marchesini Group has invested 10 million Euro—will host the top experts of the sector and employ more than 150 workers of the Group. The end result will be one large industrial complex where the two current factories of Carpi, specializing in the production of stand-alone machines and complete lines for packaging pharmaceutical blisters, will merge.
Marchesini Group CEO Maurizio Marchesini says, "The facilities in Carpi will be a modern smart factory with industrial production rates but still with tailored products. We will use technologies capable of saving energy and minimizing harmful emissions for the environment; each workplace will exploit exclusively Made-in-Italy products and technologies. Not only are we celebrating a new factory in Carpi, but we are also celebrating a place of which we can always be proud."
During the Open House, the best of the production range of stand-alone machines and blister and deep-draw thermoforming lines to package solid and liquid products will be showcased. For the solids market, there will be 11 blister lines, among which are nine Marchesini Integra lines; integrated robotic lines have redefined the packaging concept of blisters, making Marchesini Group a key player in this industry.
The founder of the Integra family, model 220, followed by the subsequent version 320, will be backed by the new Integra 520 V, previewed last year at the Achema tradeshow. Thanks to its innovative product insertion unit—a drum-type carton opening system to manage very high speeds—and to many other technological innovations, the 520, which measures only 10 meters in length, is for single-blister applications. It produces up to 520 blisters and up to 500 cartons/min.

To "represent" the deep-draw thermoforming lines, there will be four solutions belonging to the FB family of Farcon; these are Marchesini's high-tech packaging machines for products such as syringes, ampules and vials—and three integrated robotic Unica lines. Just like Integra, Marchesini's Unica machines combine the two thermoforming and carton packaging operations in just one monobloc, allowing customers to save space and to maximize production.
Many of the showcased machines will be equipped with cutting-edge Track&Trace systems, wireless line controllers (Marchesini's Romeo) and a variety of feeders for feasible optional devices/accessories, demonstrating their level of versatility.
The Open House, therefore, is not to be missed, providing an opportunity to closely observe the best of the packaging equipment production range from Marchesini Group.
Companies in this article