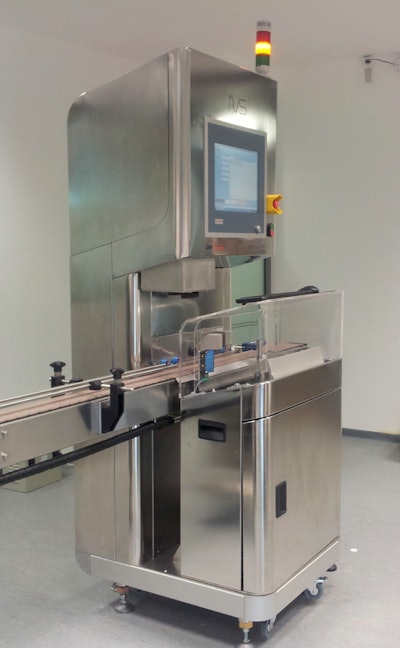 DIR Technologies announced that Pfizer Global Supply will perform a three-month trial of the company's packaging integrity testing systems based on thermal imaging. DIR technologies will install a 100% inspection system for exploration of the technology, to potentially replace destructive seal integrity testing across a number of packaging operations to evaluate speed, accuracy, and cost.
Previous "Proof of Concept" work in Pfizer facilities has demonstrated the capability of thermal imaging systems to potentially enhance the inspection of different packaging operations, particularly sealing and capping of bottles and some sterile pouch-sealing operations.
Steve Hammond, Sr. Director of the Process Analytical Sciences Group at Pfizer, explains the company's interest in this new technology. "Pfizer Global Supply has a long history of deploying new technologies, as part of continuous improvement of manufacturing effectiveness programs in support of overall quality. The deployment of thermal imaging technology has the potential to inspect 100 percent of some packages at normal machine throughput, enabling detection of almost all defects and ensuring the patient only receives a well protected product, while also facilitating the optimization of these operations. The technology to measure many of the key parameters of many package-sealing processes has not previously existed."
The I2VS (Induction Integrity Verification System) is testing inline the integrity of the aluminum foil sealing of induction-sealed bottles. It is the first system capable of inspecting 100% of the bottles undergoing induction sealing, without resulting in production slowdown and providing continuous process verification. The inspection is done through the cap by means of high sensitivity thermal imaging. The system was recently launched by DIR Technologies at PACK EXPO Las Vegas last September.
Roni Mansur, CEO of DIR Technologies described the company's vision: "There are many production inspections in the pharmaceutical industry that are done by sampling just because there is no technological alternative. Our goal is to replace these tests with inline, real-time continuous process monitoring and verification and, in doing so, establish new quality control standards in pharmaceutical manufacturing. We are starting now with solutions for pharmaceutical packaging processes, such as the I2VS sealing integrity inspection, as well as a system that inspects in-line the fill level of sachets. The next step will be to incorporate our solutions into the monitoring of additional pharmaceutical processes, such as cake drying or detection of foreign particles in powders."
The principle of operation of thermal imaging is to capture the natural thermal radiation emission of all objects with an infrared sensor and to convert the signals into a 2D image. The passive nature of thermal imaging makes it ideal for the inspection of pharmaceutical processes, where interaction with the samples under test should be minimized.
High sensitivity thermal imaging has been mostly used in defense and aerospace applications. In recent years, the appearance of a new generation of lower cost/lower sensitivity uncooled detectors has led to an increased use of thermal imaging for applications,such as security; industrial monitoring; fire-fighters, automotive (night driving), commercial aviation, NDT, and sports.
In general, the uncooled detectors used in these commercial applications are of a low grade. In contrast, DIR Technologies is making use of high sensitivity cooled and uncooled sensors that were developed for extremely demanding applications and have high sensitivity.