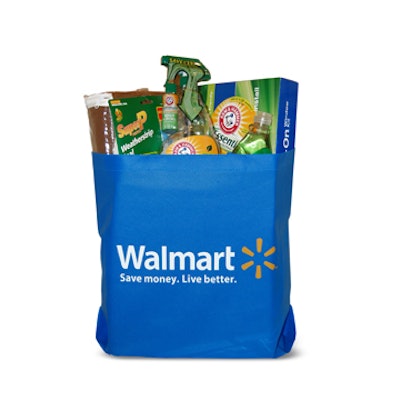 Walmart had set a goal to eliminate PVC from its private-label packaging in the U.S. by October 2007, a goal that Sam's Club Director of Packaging Amy Zettlemoyer-Lazar discussed with Packaging World. But in a new report, the retailing giant says it still has not found a suitable alternative for many of its own-brand items.
In presenting its annual sustainability initiatives update, Walmart said it is making progress elsewhere, however. According to a report on Plastics News.com, Walmart is closer to its objective of using fewer plastic shopping bags.
The company's global aim is to trim its plastic shopping bag waste by an average of 33% per store by 2013. Walmart in 2009 cut that waste by about 66.5 million pounds—4.8 billion bags, reducing waste 16% from 2007.
As for PVC in its private-label packaging, Walmart says it remains committed to finding an answer.
"While we continue to look for alternatives to PVC, we have been unable to find suitable replacements for PVC in packaging such as over-the-counter, tamper-evident bands, metal can sealants, and meat wrapping, among others," Walmart said in its report.
"Until we identify another material of equal performance, we will not eliminate PVC from certain items to ensure safety and performance for our customers."