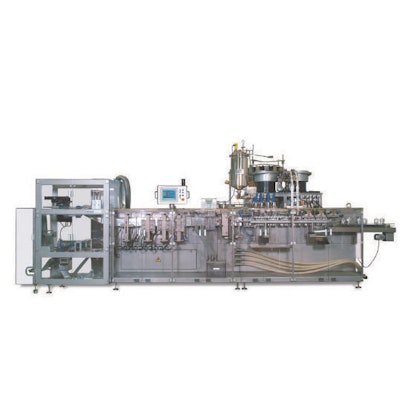 The Trade Commission of Spain assembled a June 1-8 business exchange program aimed at familiarizing U.S. businesses and the business press with Spanish industry. The program was organized by
ICEX
(www.icex.es), the Spanish Institute for Foreign Trade, with the cooperation of
Amec-Envasgraf
(www.amec.es), the 110-member Spanish Packaging Machinery Manufacturers Association.
Aptly dubbed "America in Spain," the event kicked off in Valencia, where all 85 American participants witnessed the European return of the famed America's Cup regatta from a nearby catamaran. We also attended a briefing showing that Spain was a valuable trade partner and a thriving technology hub. Among several prominent individuals to deliver remarks at the briefing was Pedro Moriyon, director general of promotion at ICEX. Moriyon observed that in the last 30 years, the Spanish economy has evolved dramatically, but these dynamic changes have not yet been widely perceived. To address this misalignment of perception and reality, ICEX has hired Saffron Consultants to heighten awareness of Spain as a brand in much the same way that brand managers at a consumer packaged goods company might promote their brands. The goal, of course, is to provide a boost to key industrial sectors, including the packaging machinery sector.
While Valencia played host for America in Spain's opening ceremonies, we soon left that bustling port city in small groups organized around our varied interests. My group consisted of one other member of the packaging press as well as Natalia Bishara, market analyst at the Trade commission of Spain in Chicago. Our first stop was Barcelona. Widely known as a treasure trove of Gaudi architecture, Barcelona and the surrounding region is also home to a number of leading packaging machinery manufacturers. Much of what they build is for export markets.
First stop: Bossar
Two of the companies we visited in the Barcelona region were Bossar and Mespack, both makers of pouch-filling equipment. At
Bossar
(www.bossar.com), sales director Josep Mestres showed us the new BMK Series, which was launched in 2005. Four lines differentiated by size have replaced nine previous lines to create what Bossar describes as the first fully modular horizontal pouch machinery systems.
The BMK line is designed for medium-sized pouches. The machinery's modular design permits it to change pouch size, add a zipper reclosure feature, add a valve, or even go from handling premade pouches to operating as a horizontal form/fill/seal system by merely switching out modules. Mestres says it's attractive to companies facing budgetary constraints because they can invest initially in a base model and add modules as capital becomes available.
Bossar also showed machines designed for filling sachets and showed a high-volume system that can fill up to 15-L containers. Another special line, the Dedicated Series, is more customized to deal with pharmaceutical and valve-filled pouches.
Since 2006, Bossar has also offered aseptic packaging machinery through a new division of the company. Each of these lines is distinguished by a special feature: the wiring hub is built into each machine system right under the rotary carousel or walking beam to minimize wiring complications.
Next stop: Mespack
Just a few kilometers away from Bossar is
Mespack
(www.mespack.com), a direct competitor in the pouch machine business. Mespack's rapidly expanding customer base forced them to move into a bigger plant two years ago. Subsequent growth will soon require them to expand their current 3,000-sq meter building and perhaps build another.
Reinout Van Zijp, managing director at Mespack, showed us a range of machines designed to package solids, liquids, powders, and granules in a variety of pouch shapes and sizes. Versatility seemed to be the recurrent theme. A good example is the MS-18 stick pack machine series. It offers four to fifteen lanes, and it can be easily switched anywhere in between.
According to Van Zijp, Mespack exports 98% of their machinery. One of their most advanced developments in recent years is being tested by
Seaquist Closures
(www.seaquistclosures.com) of Mukwonago, WI. It's a valve-in-bag technology suitable for aerosol cans that is designed to reduce chlorofluorocarbon (CFC) emissions compared to more conventional technology used today.
Third stop: Posimat
Not far from Mespack and Bossar is
Posimat
(www.posimat.com), another leading packaging machinery builder. Posimat is celebrating its thirtieth anniversary of producing world-class bottle unscramblers, and innovation appears to be a central driver in the firm's approach to the marketplace. Its Posiflex line, for example, recently won the Machine of the Year Award from the UK's Processing and Packaging Machinery Association. Jaume Marti, president of Posimat, showed how easy it is to change the size of the bottle being unscrambled on the Posiflex line. The selector and funnel size expand and contract at the push of a button thanks to the innovative use of servo technology.
Posimat has also designed the Posisilo, a silo technology designed to alleviate undue pressure on stored bottles and prevent them from being smashed as they are discharged towards a filling line. According to Marti, storing bottles in a silo is more reliable and, ultimately, more efficient approach to beverage filling than direct blow/fill.
Although we were not allowed to photograph it, Posimat is currently manufacturing an unscrambler that will be unveiled at October's Pack Expo Las Vegas show. Called Posilite, it's aimed at bringing a more affordable automated unscrambling machine to firms that have historically been priced out of such equipment.
What does the future hold for companies like Bossar, Mespack, and Posimat? Currency fluctuations may shape the answer to a considerable extent. If the value of the Euro continues to rise, it will be increasingly difficult to find non-European buyers of packaging machinery made in Spain. But the impression I got is that such obstacles will hardly keep these three packaging machinery builders from their focus on future growth. All three, for example, will be exhibiting at
Pack Expo Las Vegas
(www.packexpo.com) October 15-17, sponsored by the Packaging Machinery Manufacturers Institute.
And that, in a nutshell, was our tour. The Mediterranean climate, the five-star treatment we received from our gracious hosts, and the fantastic urban development and architecture we saw at every turn made America in Spain a memorable outing. But the real discovery, for me as well as for a number of my more seasoned fellow countrymen who participated in the program, was Spanish technology. At every briefing and visit on the agenda, it never failed to impress. Muy bien!
Companies in this article