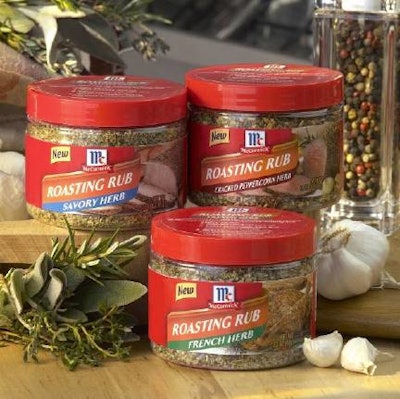 WEB EXCLUSIVE: McCormick & Co., Baltimore, MD, showcased several packaging innovations at its booth at the Food Marketing Institute show. Besides the finishing sauces the company introduced in microwaveable stand-up pouches that we covered last month, the company also presented two more new products:Gourmet Collection Grinders and a line of jarred Roasting Rubs.
Gourmet Grinders are a new line extension similar to what it introduced in 2002 (see Grinders add a spicy twist) except the package is now inverted so that the grinder is on the bottom. That does two things, according to McCormick's Laurie Harrsen, director of public relations and consumer affairs. "We wanted to make it more contemporary to distinguish it from our core grinder line. It also better resembles upscale pepper mills sold in specialty stores."
The grinder portion is a one-piece mechanism that twists to open and close and is protected by a tamper-evident seal. The new grinder also lacks a cap. It replaces a cap and shrink wrap used over the previous grinder.
The glass-bottled grinders in six varieties are packaged at McCormick's sister division in France, Ducros, which launched the new inverted grinder in Europe last year. The suggested retail price is $3.09.
Wide-mouth rubs
McCormick Roasting Rubs are designed for consumers as a quicker, more convenient alternative to marinades. Available in three varieties, the rubs are packed in PET jars induction sealed with a paper/foil/plastic lamination and a polypropylene lid. The stock jars carry the CCI mold mark indicative of Clearplass Containers, now operating as Silgan Penn Yan.
"The PET jar was selected for its barrier qualities to keep the spice rub fresh and for its clarity so that consumers can see the attractive rubs," says Lisa Feustle, McCormick's director of package development. The jar bottom is coded with a two-year best-by date. "It has a wide opening so consumers can easily scoop out the product," Feustle adds. The 2 3/4''-dia makes the jar wider than it is tall.
The packages are designed to be stackable so that consumers can stack multiple flavors in the pantry, according to Fuestle. McCormick experienced a minor challenge in developing the stacking ring feature on the lid and then adding a label inside the ring area. The self-packaged McCormick Roasting Rubs retail for $2.89.
Companies in this article