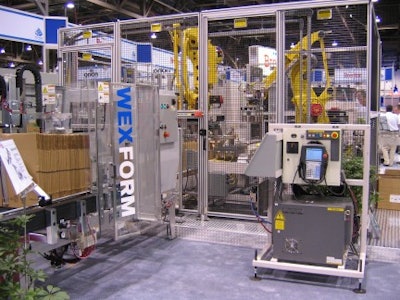 The Loveland, OH-based company's nine divisions are organized into three business units:
Primary: AXON fully automated heat shrink labeling, tamper-evident banding, and stretch sleeving equipment; FOWLER capping machinery and cap-feeding systems; OSSID stainless steel high-speed shrink wrapping, tray sealing, and weigh-price labeling equipment; and ROBERTS POLYPRO plastic components and paperboard converting machinery.
End-of-Line: BRENTON ENGINEERING case packing, shrink wrapping, and robotic material handling systems; ORION automatic and semiautomatic stretch wrapping equipment; RENNCO vertical and horizontal L-sealers and automated packaging equipment; and WEXXAR/BELCOR case packing and sealing systems.
Identification & Tracking: ID TECHNOLOGY labeling, coding and marking equipment.
Speakers included Jack Aguero, vice president marketing and business development; John Paxton, chairman and chief executive officer, and Mark Anderson, president and chief operating officer, who joined the company following its recent acquisition by Odyssey Investment Group. Anderson is responsible for Pro Mach's three business units.
"Our goal is to deliver integrated solutions by developing new integrated product suites and making the considerable product portfolio within our divisions highly interoperable and easily integrated," said Paxton. "We intend to be number one or two in the markets we serve."
The company's flexible, customer-focused approach is not limited to solutions found solely within its nine divisions, Paxton noted.
"Our intent is to deliver best-in-class equipment," added Anderson, noting that Pro Mach's initial focus will be in North America before it looks to expand into Europe.
Pro Mach's packaging solutions encompass the food, beverage, household goods, and pharmaceutical markets.
Integrated effort at Fleetguard
Exemplifying Pro Mach's integrated capability was the announcement of the forthcoming installation of a highly automated new packaging line at the Nashville, TN, plant of Fleetguard Inc., a leading provider of industrial filtration products. Pro Mach is the single source provider for the automated new packaging line for Fleetguard's wide range of industrial oil filters that vary in size and weigh from 2-lb to 5.3-lb each. The system uses equipment from Pro Mach divisions Wexxar Packaging, Belcor, Brenton Engineering, and ID Technology. The system includes two robots provided by Brenton, one robot that transfers the filters from infeed flights into the erected cases near the start of the line and a second robotic system at the end of the line that palletizes the packed, sealed, and labeled cases.
Fleetguard engineer Phillip Bryant says the Pro Mach line will increase line speeds from 23 to 50 filters per minute and improve ergonomics—a packed case can weigh 40 lb—yet use the same footprint as its previous system.
"We are projecting $150ꯠ to $250ꯠ cost savings per year with an estimated payback in two years based only on ergonomic and labor savings," states Bryant. "The productivity increase is an additional financial benefit."
Pro Mach had on display at its extensive PELV booth Fleetguard's complete system in operation (see photos) with the same equipment that will be installed in December 2005. More details will follow next week including exclusive video of the machinery in operation.
Companies in this article