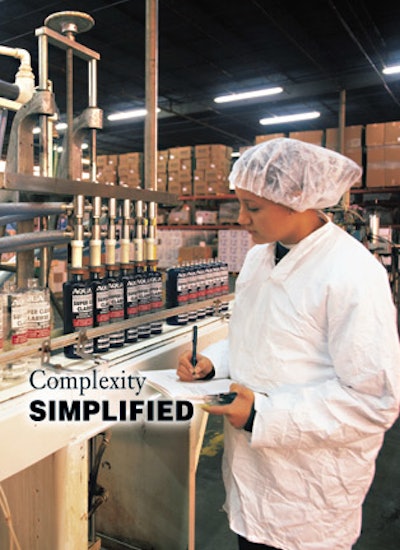 Many consumer product goods companies (CPGs) struggle with complex supply chains. But forward-thinking CPGs are reducing costs while gaining speed-to-market by turning to a new type of contract packager that integrates the supply chain for them.
Wilpak Inc. is one of these co-packers. On the one hand, the Forest Park, GA, firm serves in contract packaging's familiar supply chain capacity as processor and packager. But the company also operates both "upstream" and "downstream" of this traditional role.
Upstream in package development, Wilpak is venturing into package design, components sourcing, and materials planning. Downstream, the company is engaging in warehousing and shipping. Wilpak works with or bypasses CPGs' logistics groups to meet delivery schedules, sending palletized products directly to the retailer.
These tactics save money for customers by working around their complex and cost-adding internal distribution networks.
Wilpak has sustained double-digit sales growth by building a business model that reduces CPGs' costs in the transition between each of these six steps—design, components sourcing, materials planning, package processing, warehousing, and shipping. Under this model, Eric Wilhelm, CEO, describes his 11-year-old company as an "integral supply chain partner." He believes that value-chain integration and management are the future of contract packaging.
"There's no other supplier that has the total vision—concept to shelf—that a contract packager does," Wilhelm says. "There are usually very few, if any, individuals within these multibillion-dollar corporations that have much visibility into their supply chain. Our job is to anticipate potential data or product stops in the complex events in their supply chain and circumvent potential failures before they can have an impact.
"At a consumer products company, there's a lot of labor, bricks-and-mortar, information technology, and freight costs dedicated to each of the six transitions. Different people in different states could handle some or all of these transitions.
"If we can make each of these transitions seamless to the customer, it saves them money. They leverage their dollars by taking complexity out of the system. They gain speed to market, and it increases their return on investment."
The model in action
Two examples illustrate how Wilpak's supply chain integration model works:
A customer wanted to cancel a 200ꯠ-case order because its board supplier had a much longer lead-time than the retail order would permit. Wilpak went upstream and asked the CPG's purchasing department for both the packaging artwork and the dies for the component requiring the long lead-time.
Within 10 days, Wilpak met the customer's order for a big-box retailer and retained the account. The single SKU produced in filling the order sold more than 1.5 million cases.
Wilpak direct ships product in several ways that take costs out of the system downstream. First, the company warehouses volume for multiple SKUs for customers including Nestle Prepared Foods, Clorox Co., Coca-Cola Co., and the Wm. Wrigley Jr. Co. In addition, Wilpak reduces total delivered costs by bypassing traditional distribution systems and shipping directly to retailers. "The savings are $25 a pallet and sometimes more," Wilhelm says.
These savings occur in two ways. First, the co-packer can pool smaller runs of multiple products from a single customer onto trucks going to the same destination. Second, Wilpak requests that the customer ship enough additional units of best-selling products, including those that may have been packaged by another company, to fill out truckloads. These trucks also contain the same customer's special-order displays or packaging.
This multifaceted approach to freight consolidation, when executed at the high-capacity facility of a contract packager, presents potentially the single biggest opportunity for CPGs who want to leverage co-packers to get to market quickly and cost-efficiently, Wilhelm notes.
Multiple facilities
Wilpak manages these complex events—and delivers on average 100 truckloads of product to retailers each day—by following a communications diagram that resembles a spaghetti chart, rather than adhering to a traditional linear flow. "We end up managing consumer products companies' production and vendors, to meet our schedule, driven by their demand levels, which we monitor in real time," Wilhelm explains.
This integrated approach is not only driving increased business among the company's existing customers, but also growing the company through a healthy referrals business.
The range of Wilpak's services occurs in the following facilities in the Atlanta area and Chicago, spanning a total of 750ꯠ sq ft:
1. The third-party packaging (3PP) centers in Forest Park (360ꯠ sq ft) and in Chicago (112ꯠ sq ft) handle secondary or repackaging services such as displays, shrink packaging, blisters, cartoning, labeling, and modular pallets, for the highest-volume and highest-velocity customers.
2. A 100ꯠ-sq-ft contract manufacturing facility near the headquarters building in Forest Park blends, compounds, and fills product. It also provides thermoforming, cartoning, and overwrapping services.
3. A 180ꯠ-sq-ft center in Atlanta operates as a third-party logistics (3PL) provider to support upstream and downstream activities related to the company's other two types of facilities. The 3PL center provides an inbound and outbound "buffer" to maximize packaging operations and speed-to-market opportunities.
The 3PP center in Forest Park is the main hub of activity, and it is divided into five work areas. The first two areas are Work-in-Progress (WIP) rooms, which handle inbound products and components.
The third area, the production floor, holds 11 of the company's 25 packaging lines, "But I can squeeze it to run more," says Bill Kalinowski, logistics manager. The remaining lines operate in work-cell environments specific to each product. Some 58 dock doors, located on all four sides of the building, eliminate the potential for cross-traffic.
Streamlining performance
Quality and consistency are two essentials on the product floor, and each production line achieves them with the aid of its own "instruction board." Each board contains photos that show line operators the steps for producing a specific package. For shrink-wrapped two-packs of household cleaner, the board at one production line displayed eight photos that guide workers in assembling the multi-pack, applying a shrink wrap around the bottles, attaching the closure, and labeling cases on pallets.
Quality-control checks occur every hour on production lines, and quality carries equal importance with speed, notes Wendy Reynaud, director of financial and informational services.
"It doesn't do any good to get the product out fast if the quality isn't good," Reynaud says.
The fourth work area in the 3PP center is the "gum room," for creating and packing point-of-purchase (P-O-P) displays of gum. The fifth area is a finished goods room, the final stop for most of the packaged products before they move into distribution.
By coordinating timelines and sharing information, Wilpak manages a variety of needs for high-volume, high-velocity CPGs. It handles packaging in product categories including household cleaning, food, confection, health and beauty aids, health care, and auto aftermarket.
Some customers have exacting or unusual requirements:
• In the gum room, product arrangement into P-O-P displays can get complex. Kalinowski describes one project that involved packing displays with up to 70 different SKUs of gum and components. Packages of the many different varieties of gum needed to be packed in the exactly same layout, or "facings," in each display. An instruction board helped production line workers produce a complex display with no errors, Kalinowski says.
• Another project required 34-count and 38-count cartons of trash bags to be mixed in a precise pattern on each in-store display pallet. Cases of each different unit-count package arrived at the packaging facility on separate pallets. They were removed from their initial cases and arranged in a predetermined order on the display pallets as they moved down the production lines. The two different unit-count packages were also assembled into multi-packs on more automated production lines for another retailer. [CP]
Click here to read the Delving into the date sidebar to this story.
Companies in this article
Videos from Universal Labeling Systems, Inc.