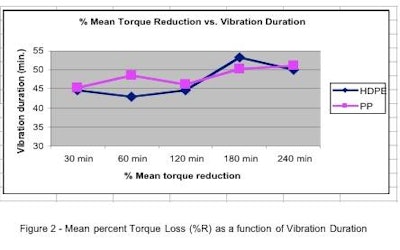 The following material is drawn from a thesis, Effect of Vibration vs. Material Type on %Torque Loss in Two Discontinuous-Thread Cap System, researched and written by San Jose State University graduate student Maryam Hajiabbasi, PE, under the guidance of adjunct professor Albert Elboudwarej, Ph.D.
Last month, Packaging Insights published a SJSU thesis entitled Temperature effects on torque and bottle opening.
Significance
Loose caps are of particular concern in pharmaceutical packaging because of moisture loss or uptake through a potentially deficient seal. Imperfections that can significantly affect the success of a product are relatively easy to mitigate.
Packages travel long distances in the distribution environment until they arrive at their ultimate destinations. No matter the mode of transportation, products will be exposed to random vibration. Transport vibrations are generally considered to be present for relatively long periods, and typically cause fatigue type damage such as loosening of closures and fasteners. Closure materials have different mechanical properties, which are most likely influenced by random vibration and aging. Torque loss is unique to every application and should be established for each closure system.
How much torque loss will occur due to vibration over time and how will this affect the shelf life of the product? These are important factors for packaging engineers to consider.
Cap details
The specimens used in this experiment were small (50 mL) bottles made of injection blow-molded high-density polyethylene (HDPE), with a finish of 28 mm diameter, and a 1/3-turn discontinuous thread. Half of the caps used were injection-molded polypropylene (PP) caps, as are typically used in pharmaceutical applications. The other half comprised HDPE caps, which are increasing in popularity. The entire supply of bottles was obtained from a single manufacturing batch.
Pre-experiment testing determined that an application torque of 12 ±1 in-lb would be suitable.
Procedure
Each sample group consisted of 30 bottles: 15 with HDPE caps and 15 with PP caps. Torque loss [Ta–Tr] and percent torque loss [%R = 100x (Ta–Tr)/Ta] were calculated, as was the mean (average) within each 15-bottle subgroup. Five time intervals were used: 30 min, 1 hour, 2 hr, 3 hr, and 4 hr. Each time interval of vibration duration required 15 bottles for each cap system, for five time intervals with a total of 150 bottles. All samples were exposed solely to ambient temperature conditions throughout the experiment.
After determining the vibration duration required to reach steady state equilibrium, a control group remained at ambient conditions for the same duration. By comparing the result between control and experimental samples, the loss due solely to vibration could be determined.
Results
As noted, mean percent torque loss (%R) was recorded for each time interval of all three iterations. The mean for the three replicates was also calculated, so that the overall trend in percent torque loss over time could be observed. The mean of replicates of %R as a function of time is shown in Figure 2 (see graphic), with curve lines for HDPE and PP caps.
From the graph presented above, we can conclude the following:
- Torque loss happened immediately after capping.
- The rate of change (slope) in %R was very similar for both PP and HDPE.
- Both cap systems seemed to reach steady state equilibrium after approximately 3 hours.
- Polypropylene cap torque loss is more predictable when compared to HDPE.
Conclusions
The first goal of this experiment was to determine what vibration duration is required for a "leveling-off" of torque loss to occur. The limited results obtained here suggest that samples of this type should be exposed to 3 hours of vibration to achieve steady state equilibrium.
The second goal was to determine overall torque loss for both material combinations due to vibration. Higher torque loss of HDPE caps suggests that this material might provide a shorter shelf life, which would be a strong argument for choosing PP caps over HDPE in certain applications.
The results obtained in this experiment can also help to promote further related testing. Vibration is certainly one element of the distribution cycle, but every package system also experiences warehousing (aging), temperature, and humidity fluctuations that can affect removal torque.
These results can be used, in turn, to help make certain predictions about product shelf life.
Companies in this article