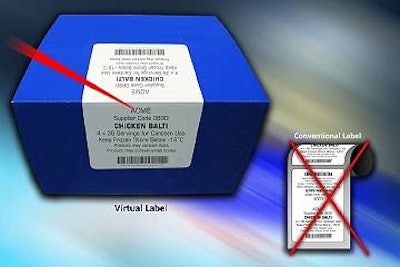 DataLase from Sherwood Technology in the United Kingdom permits the "printing" of a virtual label directly into packaging substrates using a low-power carbon dioxide-based laser that replaces conventional print-and-apply methods.
The technology involves the DataLase material, which is coated onto packaging materials during converting. Or it can be used as a coating applied during the printing process either as blanket or spot coverage. DataLase is a stable, inorganic pigment typically in the form of a white powder.
This laser-reactive surface becomes an integral part of the package and cannot be removed.
The laser creates a clean, high-resolution bar code, logo, or graphic onto the surface. Another advantage is that this is done by low-power (10 watt) carbon dioxide lasers, typically using only 3 to 5 watts of power, says Andrew Jackson, applications marketing manager. The technique can lower the cost to mark plastic containers, which typically require extremely high-powered laser to mark.
"It opens up a whole range of applications, from date coding and marking to virtual labeling and brand protection," says Jackson. "We are already seeing a great interest in the use of DataLase for a variety of applications."
Medical device application
One virtual labeling application is with an undisclosed medical device company in Europe. Jackson says the company is moving beyond production trials to implementation. The DataLase upgrade replaces thermal-transfer print-and-apply labelers, eliminates consumables including pressure-sensitive paper labels and inked ribbons. And it eliminates the maintenance associate with the printer-labelers. Jackson claims this represents overall cost savings for the customer.
That application uses two levels of DataLase—one for the inner blister packs containing syringes or ampoules, and another on the secondary cartons containing four or five of the blister packs. Each blister measures 2" X 1".
The blisters are flood-coat printed with the DataLase material and laser-marked with alphanumeric product name, lot number, storage instructions, and traceability information. That's done immediately after the blisters are sealed.
Those are packed into a 9''-square-sized paperboard carton with product identification and bar code printed by the laser while the carton is stationary. Information that had been printed on a label is now coded directly on the carton into a white area that matches the dimensions of the previous label.
Why not conventional laser coding?
Packaging Insights asked Jackson why not use conventional laser coding directly, without any special coatings applied beforehand?
Slower line speeds and higher powered lasers would be required, and the laser-etched image quality would be inferior, Jackson responds. Plus the burned residue would need to be collected if etched into a substrate, he adds.
Jackson says the technology could be used as brand and authentication methods. Sherwood is currently working to develop multicolor printing.
Sherwood has also developed an edible version of DataLase that permits a tiny, high-resolution 2-D bar code to be "printed" on pills or tablets, according to Jackson. This could be used as a safeguard against medication errors and also encode vital dosage and drug content information. Interest due to FDA's 21 CFR 11 from pharma companies is high, Jackson says, especially since this technology would be available for marking individual tablets and pills. DataLase coding could also assist in product recalls, he adds.
Companies in this article