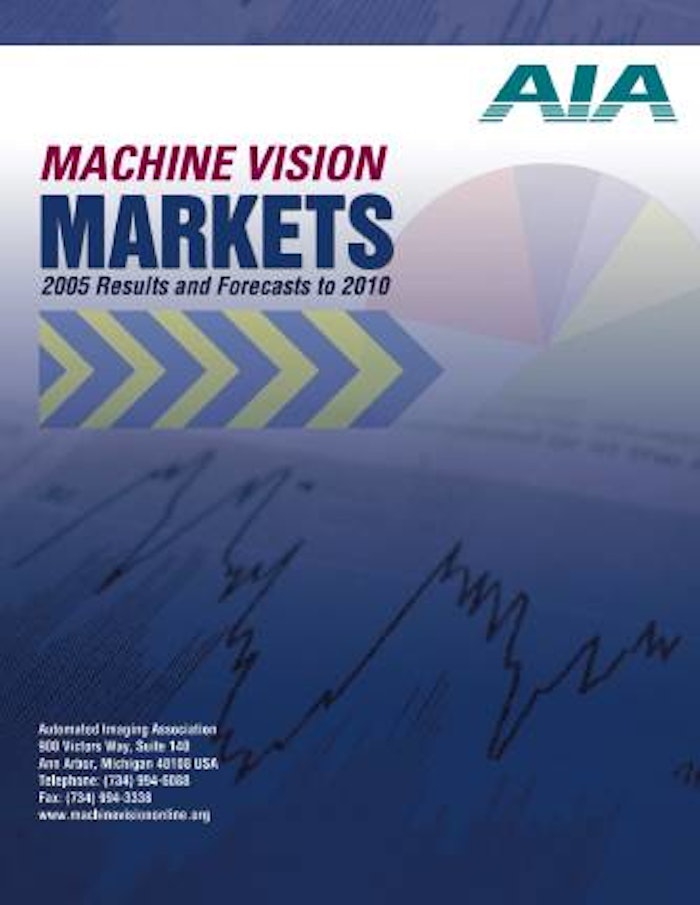 A new machine vision market study shows that 2005 was a good year for the machine vision industry and that continued growth is expected in 2006.
The study, Machine Vision Markets – 2005 Results and Forecasts to 2010, was published in April by the Automated Imaging Association (AIA), the world's largest machine-vision trade group, with more than 250 member companies from 24 countries.
"Machine-vision markets in North America continue to display strength and vitality, with 2005 results building upon the record sales figures of 2004," says Paul Kellett, AIA's director of market analysis.
"All indications point to continued growth in 2006, as companies continue to invest in technologies such as machine vision that can help them become stronger global competitors," Kellett adds.
Packaging apps look to Third World
The AIA shared with Packaging Insights the packaging/container portion of the study, which pegged sales revenue at $92.4 million for packaging and container manufacturing applications. It also indicated that unit sales were 1갗, which works out to an average investment of $8껖 each.
The study says that the biggest growth for North American suppliers of application-specific machine vision (ASMV) systems for the container industry continues to be the emerging third world countries. In addition, as Europe especially moves away from refillable glass bottles to one-way glass bottles, more production lines and more inspection systems will be required. More soups, wines, spirits and a growing number of craft beers are being packaged in glass.
At the same time there have been some developments that could result in more beer sold in PET and other plastic bottles. That could negatively impact the sale of machine vision systems to the glass industry.
Overall sales of machine vision systems in North America were $1.2 billion. AIA forecasts 2010 sales to reach $1.5 billion.
Smart cameras saw the strongest growth in 2005, with a 19.1% increase in units and a 14.4% jump in revenue. Sales of ASMV systems rose 13.6% in units and 6.4% in revenue. Fast-growing component markets included cameras, optics and vision software.
Questions about the AIA study can be directed to Paul Kellett at pkellett@robotics.org or 734/994-6088, or visit MachineVisiononline.org.