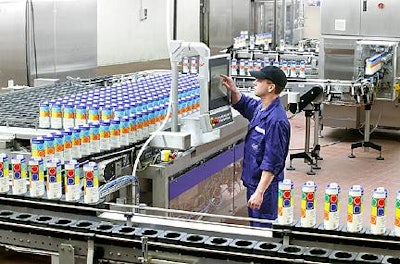 Combishape liberates the concept of the beverage carton from its traditional cubic configuration. Combishape aseptic cartons can take one of 42 basic oval or crescent shapes with as many as eight corners.
The differentiating package shapes have clear marketing advantages. But the technology is also a breakthrough in terms of filling and automation concepts.
Integration is key to automated operation
The Combishape forming and filling line requires synchronization of eight machine modules into an integrated automated process. These modules perform pour top sealing carton body production welding of the pour top onto the body filling transport and buffer capping carton erecting and vertical cartoning and end-of-line packaging.
SIG engineers standardized on ELAU PacDrive™ automation systems to maximize performance and to simplify operation and service. The PacDrive architecture integrates motion logic and other functions previously performed by discrete controllers into a single software application running on a single processor. The ELAU system has not only simplified programming and line integration for SIG it has enabled control functionalities that simply were not possible with competitive systems.
First a cap adapter is welded into place in a pre-cut hole in the material that will form the lid of the final carton. Then the lids and bases are die cut to net shape.
On the body forming machine material is unwound cut to length formed into the shell of the carton and sealed. Next the base shell and lid are assembled and sealed to form the carton. A PacDrive automation system controls this 8-servo module and provides electronic camming positioning temperature and logic control functionalities.
A 10-axis servo transfer module applies a pull tab to each cap adapter and directs the cartons into a four-lane aseptic filling module where the cartons are filled through the cap adapter with sterilized product.
The flexibility provided by the integrated control system includes flying splices of raw material.
The 24-axis filler uses 16 flowmeter-controlled filling valves with level correction for filling accuracy within 2 ml. Gentle cam motion profiles prevent spilling of the liquid from the open cartons.
A sophisticated cam profile also controls transport into and out of the filling machine. As a result the filler has achieved a cycle rate of 10 cartons per hour. Moreover the integrated controller takes over PLC functionalities such as hydrogen peroxide (H2O2) sterilization seal heating and temperature control. A thermal gradient of 100° C/s is reached with an accuracy of +3° C.
After the aseptic filling process a seal with pull tab is applied to the pour spout and the carton proceeds either to a buffer or straight to the mechanical capper over which the PacDrive system performs PLC logic. Finished cartons are taken to a 9-axis servo case packing cell featuring a robot case erector and servo dual belt infeed.
Altogether the line uses eight PacDrive controllers and 63 servo drives. SIG Combibloc credits its ability to accept responsibility for synchronizing the entire line from packaging converting to end-of-line packaging to PacDrive's seamless development operating and diagnostic environment.
"Thanks to ELAU's holistic approach to automation and close involvement with SIG Combibloc the Combishape line is even more efficient and reliable than originally conceived" explains Peter Theissen Automation Department Manager for SIG Combibloc. "We chose the PacDrive system because it is a truly integrated automation architecture and because of ELAU's proven competence in packaging machinery control. This is the only way to achieve the high degree of system synchronization we required between machines with a high servo content and machines with no servos at all."
Conventional architectures have separate PLCs and motion controllers using different programming languages and development environments. By integrating motion and logic in the same program on the same processor the PacDrive system eliminates handshaking between controllers which accounts for up to 30% of the software code along with hardware interfaces between the two.
Some PLCs have been adapted to control motion but they still rely upon slow backplane communications between multiple CPU modules motion processors fixed-axis-count motion interface modules and drive-mounted processors. In contrast a PacDrive controller performs all motion control and logic functions on the same processor.
As a result programming performance and service are directly improved. As demonstrated by the innovative Combishape line integrated automation architecture has effectively rendered the traditional PLC obsolete.
Award winning machinery
At the FachPack trade show in Nuremberg Germany in late 2003 SIG Combibloc earned the 2003 German Packaging Competition for its Model CSA F10 Combishape filling machine for aseptic beverage cartons.
The jury explained in their decision that "The machine concept of Combishape is characterized by its great shape and format flexibility of up to 42 different shapes. The uniform operating concept along the production line (filling machine/end-of-line packaging) the flexible shaping and the sealed integration of pour tops with large cross sections make the machine concept an innovative and easy to use system."
Companies in this article