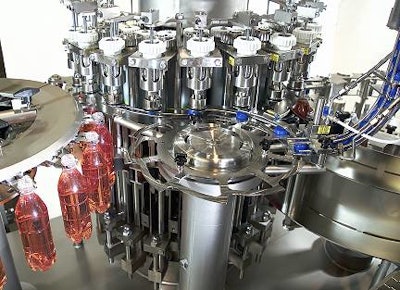 To meet the stringent requirements of cold aseptic packaging, the new bottle capper minimizes the number of mechanical components and bottle guides to reduce the opportunity for microbial growth and contamination.
Additionally, the new capper makes maximum use of servo automation to achieve rapid changeovers, consistent capping torques and continuous tracking of quality data.
A hygienic solution
Conventional capping mechanisms place microbial contamination-prone closing and drive units above the open bottles and closure transfer. In the new design, purpose-built servos mounted on the rotating carousel are used for the closing head drives.
The servo system relocates the cam support and closing element below the bottle mouth and to the inside of the bottle axis. Only the washable chuck, spring package and rejector are located above the bottles.
As a result, there are fewer surfaces for germs to collect and less chance of contaminants falling into the open bottles or the closures as they are transferred to the pick station.
New servo overcomes design constraints
Integrating drive and motor in a unique trapezoidal form factor, the servos overcome the space restrictions and complexity of connecting stationary servo drives to motors on a rotating machine member. As a result, a rotary capping machine design with true Gen3 attributes is feasible for the first time. For details on the servos, see sidebar story.
Krones engineers also leveraged the ELAU PacDrive automation system's onboard data collection and recording capabilities to constantly monitor and document capping torques. If a cap is applied with the wrong torque, the bottle is automatically rejected.
The servosystem also permits infinitely adjustable and extremely consistent control over torque, speed and multithreaded cap placement without rotation of the capping head. Torque changes to accommodate different cap types, sizes and thread configurations are fast and hygienic, executed as a recipe change with no need to make manual adjustments.
The new 20-station capper is designed for sealing PET bottles with plastic screw caps. Variants are also available for glass and other plastic bottle materials, such as HDPE, and for non-aseptic applications.
For more information, contact ELAU Inc. by telephone at 773/342-8400, by email at [email protected], or on the web at www.elau.com. For more information from Krones, Inc., call 414/409-4000, email [email protected] or visit www.krones.com.
[This advertorial originally appeared in Packworld.com's supplier-sponsored content area.]
Companies in this article