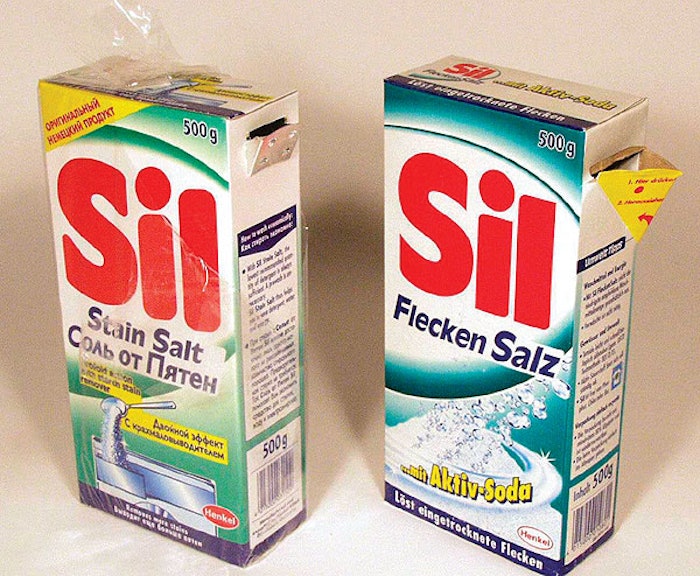 Previously, Sil used an overwrap of polypropylene, plus a vapor barrier of low-density polyethylene inside the paperboard box.
Taking advantage of the moisture-barrier properties of Ticona's Topas® cyclic olefin copolymer (COC), converter VG Nicolaus created a new package for Sil that eliminates the overwrap material costs, plus the additional packaging step.
Eco-friendly
Even more important, the new package's plastic content remains below the 5% limit of the DSD Green Dot waste/recycling system. Thus, the packaging material qualifies as eco-friendly, saving Henkel recycling fees.
The new structure has a thin layer of bleached paper outside/about 0.040" of Topas COC extrusion-laminated with LDPE/kraft paperboard. Previously, the 1-mil overwrap of OPP, plus the LDPE inside caused Henkel to pay the extra recycling fees. Eiko Hasse, packaging manager at Henkel, says the Topas yields about five times the moisture barrier of LDPE.
Two sizes available
Sil is offered in two sizes, a 500-g box with a corner perforated pour spout (shown to the right of the former carton), and a 1귔-g size that's opened via a tearstrip applied to the carton board in converting. In the process, VG Nicolaus extrusion-laminates the two paper substrates with the Topas resin, then prints the roll in five colors via offset. Later the boxes are die-cut for shipment to Henkel for filling. Hasse admits the new package is about 10% more costly in materials than its previous structure.
Companies in this article