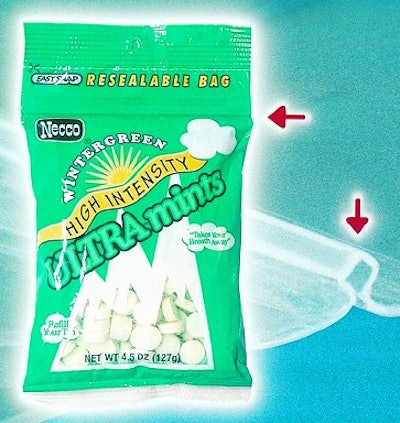 Cambridge, MA-based NECCO tells Packworld.com that the flexible package delivers a unique retail shelf presence compared to the competitive tins or blister packs. "We started looking at traditional lay-down peg bags and stand-up pouches," says NECCO marketing manager Lory Zimbalatti, "but the problem was keeping the mints fresh."
With the Easy Snap™ bag from the Easy Snap Division of Sig Pack (New Richmond, WI), there is a distinctive snap feel and sound when consumers close the bag. Easy Snap consists of two rigid "tracks" made of Easy Form™ rigid PP that span the width of the bag. "[The technology] assures consumers that the bag is closed and keeps the mints fresh," says Zimbalatti. Shelf life is 18 months.
NECCO leases a Sig Easy Snap module from Sig Doboy (New Richmond, WI) that laminates Easy Form to the PP film. An Infinity® v/f/f/s bagger and an Eagle® 14-bucket computerized combination weigher from EaglePack (Oakland, CA) were installed at NECCO in May. The equipment runs five days a week, one or two shifts/day, at 50 bags/min. PP bag rollstock is flexo-printed by Amcor (Baltimore,MD) in four colors.
"The package is more expensive than a traditional peg bag," says Zimbalatti, "but there is added value to it and we feel it can [retail at a higher price] in the marketplace than the tin." A 4 1/2-oz bag of Ultra retails for $1.39. Recently, the Institute of Packaging Professionals announced it as an AmeriStar Package Award winner.
Companies in this article