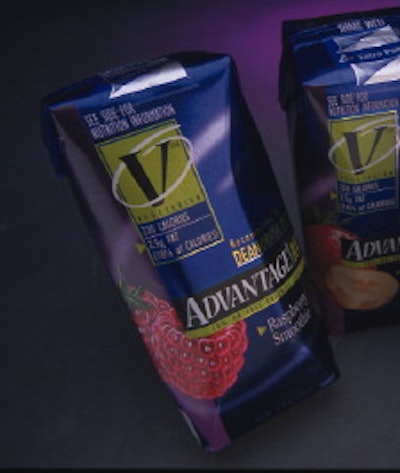 A Conagra Brands division based in Edina, MN, Golden Valley was the first in the U.S. to commercialize the new aseptic pack when it launched three flavors of fruit smoothies in it about six months ago. The 11-oz smoothies are part of a 14-item line of foods called Advantage10(TM) that are sold primarily in health foods stores nationwide. With a suggested retail price of about $1.49 each, they trade on an endorsement by Dr. Dean Ornish, an authority on the benefits of a low-fat, vegetarian diet.
Like the ubiquitous aseptic brick-pack that Tetra and others have made available for years now, the Prisma package is formed, filled and sealed from rollstock. Also like the brick, hydrogen peroxide is used to sterilize the packaging material, which is similar but not identical to the brick's paperboard/foil/polyethylene structure. The difference is that the Prisma package adds a top layer of metallized oriented polypropylene laminated to the paper substrate and an extrusion of PE over that to protect the gravure-printed graphics on the metallized OPP.
Tetra Pak also positions the Prisma differently. While the brick's simple rectangular shape and attached straw is widely viewed as a package for children, the Prisma package is Tetra's bid to appeal to the adult sector. Replacing the straw, it employs a foil pull-tab over a large orifice for either pouring or drinking; the tab is heat-sealed in place just before the form/fill/seal station.
Also differentiating the Prisma from the brick pack is its shape. Though perfectly square at top and bottom, the sidewall is eight-sided, which is supposed to make the package ergonomically friendly to the hand.
Companies in this article