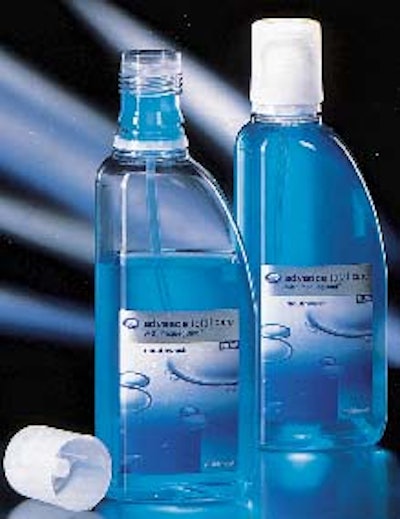 The 500-mL bottle is injection /stretch blow-molded of polyethylene terephthalate by PET Power (Etten-Leur, the Netherlands). PET Power also helped closure specialist Zeller Plastik Finke (Finnentrop, Germany) in developing the TamperDent® injection-molded polypropylene closure.
Tamper evidence is provided by a breakaway band. The 34-mm closure is child-resistant thanks to partial threads molded inside the cap that engage the bottle threads only when two pressure points are pressed. Dosing is delivered via a dip tube/chamber combination that fits snugly inside the neck of the bottle. A gentle squeeze on the bottle sidewalls causes the mouthwash to rise through the dip tube and fill the dosing chamber. Specially molded vents in the tip of the tube cause excess mouthwash to drain back into the bottle once the chamber is filled with 10 mL.
Kemp isn't saying much about how the dosing chamber/dip tube component is inserted into the bottle. Front-and-back pressure-sensitive labels are metallized PP printed offset in a variety of colors depending on flavor. Kemp doesn't identify the label supplier.
Companies in this article